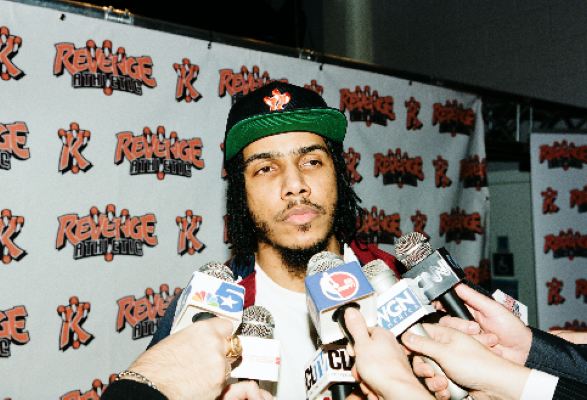 AJ Tracey has announced his highly anticipated sophomore album 'Flu Game', due out on 16 April 2021.
Following hard-hitting single 'Anxious' and a series of mysterious 'West Gazette' posters appearing in cities across the UK, the West London rapper confirmed the news earlier this week at the end of a fake press conference.
WATCH IT HERE:
Currently available for pre-order alongside an extensive range of Revenge team apparel, 'Flu Game' features 12 brand new tracks and contributions from the likes of Kehlani, T-Pain, SahBabii, NAV and Millie Go Lightly.
On the production front, AJ called on frequent collaborators Nyge, The Elements, Kazza, AoD and Remedee.
The album will be the official follow-up to his 2019 self-titled record and feature UK Top 5 singles 'Bringing It Back' with Digga D, 'West Ten' with Mabel and the Platinum smash hit 'Dinner Guest' ft. MoStack.
AJ Tracey 'Flu Game' Full Album Tracklisting:
Anxious [prod Remedee]
Kukoč (ft. NAV) [prod Pxcoyo + Yung Swisher]
Bringing It Back (with Digga D) [prod. The Elements + AoD)
Cheerleaders [prod Kazza & Swidom]
Draft Pick [prod 5ive Beatz]
Eurostep [prod AJ Tracey]
Cherry Blossom [prod Nyge & AoD]
Glockie [prod The Elements & AoD]
Little More Love [prod YOZ BEATZ, RyFy & Mark Raggio]
Top Dog [prod Nyge & AoD]
Summertime Shootout (ft. T-Pain) [prod Nyge & AoD]
Perfect Storm [prod YOZ BEATZ & JBJ]
Coupé (ft. Kehlani) [prod The Elements]
Numba 9 (ft. SahBabii & Millie Go Lightly) [prod The Elements]
Dinner Guest (ft. MoStack) [prod The Elements & AJ Tracey]
West Ten (with Mabel) [prod FRED & Take a Daytrip]