Reviews
The home for all our fan reviews. We regularly send our team out to review a local gig and listen to new music albums so we can present our very honest reviews here.
Tuesday 21 May 2019 - 9:58 am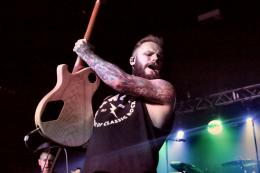 KK's Steel Mill Mini Festival Featuring KING KING, Kris Barras & Myke Gray…..
Monday 20 May 2019 - 2:10 pm
Wednesday 8 May 2019 - 11:52 am
Tuesday 7 May 2019 - 2:04 pm
Wednesday 1 May 2019 - 8:55 am
Wednesday 24 April 2019 - 1:56 pm
Tuesday 23 April 2019 - 11:43 am
Tuesday 16 April 2019 - 10:58 am
Monday 15 April 2019 - 11:50 am
Monday 1 April 2019 - 10:40 am