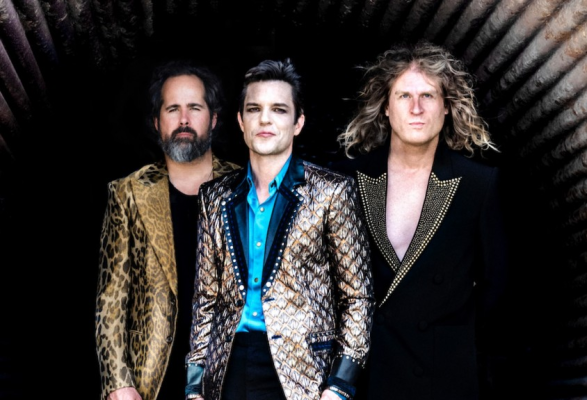 The Killers have announced a new career-spanning greatest hits album 'Rebel Diamonds', due out on 08 December 2023 via EMI.
The compilation will be the Las Vegas rockers second greatest hits record to date following 2013s 'Direct Hits'.
CHECK OUT THE OFFICIAL ALBUM TRAILER HERE:
Presented chronologically, 'Rebel Diamonds' opens with songs from the American rock band's 2004 debut 'Hot Fuss', followed by selections from 2006s 'Sam's Town', 2008s 'Day & Age', 2012s 'Battle Born', 'Wonderful Wonderful', 2017s 'Imploding The Mirage' and 2021s 'Pressure Machine'. The album goes on to close with recent singles 'Boy' and 'Your Side of Town' as well as latest track 'Spirit'.
In other news, the band's iconic hit 'Mr Brightside' has been officially named as the UK's most-streamed song in Spotify history. The track previously broke UK chart records in 2021 went it spent 260 non-consecutive weeks in the Top 100 of the UK's singles chart.
The Killers have also teased a soon-to-be announced 2024 UK tour – watch this space!
The Killers 'Rebel Diamonds' Full Album Tracklisting:
Jenny Was a Friend of Mine
Mr. Brightside
All These Things That I've Done
Somebody Told Me
When You Were Young
Read My Mind
Human
Spaceman
A Dustland Fairytale
Runaways
Be Still
The Man
Caution
My Own Soul's Warning
Dying Breed
Pressure Machine
Quiet Town
Boy
Your Side of Town
Spirit
Image Credit: PRESS