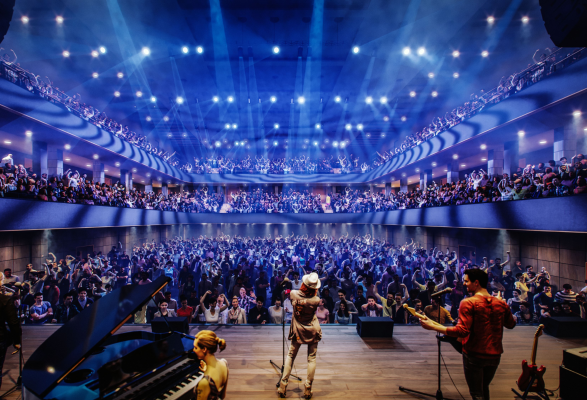 McFly, Sugababes, The Vamps, Penn and Teller and more to perform in the much-anticipated opening of iconic The Halls Wolverhampton.
AEG Presents, a division of AEG Europe's sports, entertainment and venue operator family, has announced a sensational line up of shows taking place across June, marking the much-anticipated opening of iconic venue The Halls Wolverhampton.
There is a huge line up of already announced – tickets on sale now from AXS
Guests are also invited to register for updates on the venue's official website here to be the first to find out about upcoming shows, exciting competitions and ticket giveaways.
The Halls Wolverhampton officially reopens in June following a major multi-million-pound refurbishment programme undertaken by City of Wolverhampton Council in partnership with by AEG Presents
Wolverhampton local and AEG Presents CEO Steve Homer, says: "We have a fantastic line up set for June, befitting of the opening of the iconic The Halls Wolverhampton and the renowned artists we're thrilled to welcome to this great city. I can't wait to officially open the doors and be part of the crowd enjoying these performances. From rock to pop and comedy, there really is something for everyone."
City of Wolverhampton Council Leader, Councillor Ian Brookfield, said: "These are exciting times for this much-loved venue in our city – and is what all the blood, sweat and tears have been for.
"AEG Presents' passion for The Halls and ambition for the future matches our own and this fantastic opening month of shows in June will ensure the new-look venue bursts back into life in style after our multi-million-pound transformation works.
"We're thrilled to be working with AEG Presents on this, who understand the venue's rich heritage and share our vision of reimagining an iconic institution that will continue to bring joy to the lives of locals for years to come, helping shape our city centre, creating jobs and boosting businesses by attracting 300,000 visitors a year and adding more than £10million annually to the local economy."
The 3,404 capacity 'The Civic at The Halls Wolverhampton' and 1,289 'The Wulfrun at The Halls Wolverhampton' will play a key part in the city's economic recovery hosting leading music and entertainment performers, as well as business events and conferences. It will attract hundreds of thousands of visitors to the city, boosting the local economy by £10+ million per annum. Plans will also benefit local businesses, as well as create new employment opportunities, raising the city's national and international profile.
Sustainability and accessibility are at the heart of the refurbishment and The Halls Wolverhampton will use new mechanical and engineering services resulting in the venue running to the utmost efficiency.
Visitors will enjoy more comfortable seats, a greater number of bars and enhanced space to socialise, expanded and revamped toilet facilities, lift access for those viewing from the new balcony level, better access arrangements for disabled visitors (including enhanced wheelchair access), a greater number of accessible viewing points and improved room temperatures through the installation of a new air handling system.
As part of AEG Europe, AEG Presents own and operate over 40 venues across the world. In the UK these include the Eventim Apollo London, indigo at the award-winning The O2 arena in London and the recently announced new live music venue at Olympia London (opening in 2024).
The official ticketing partner for the venue will be AXS, AEG's award-winning global ticketing platform, which brings its patented ticketing system, AXS Mobile ID, ensuring ethical, secure resale and ticket transfer.
AEG Presents will be supported by ASM Global, the world's leading venue operator to deliver a first-class customer experience in the venue including sales, marketing, food and beverage, as well as other services.
Image Credit: PRESS