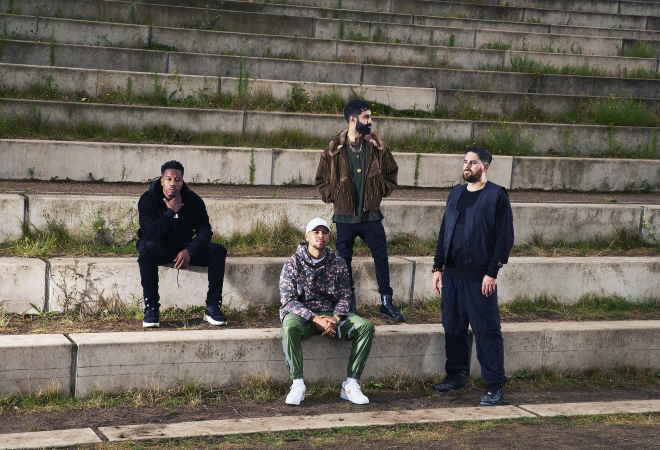 Rudimental have dropped the official music video for latest single 'Come Over' featuring Anne-Marie and Tion Wayne.
The video for the collaborative garage-infused track was directed by Charlie Robbins and produced by Joseph Goldman. It tells the story of a club night out, complete with moonlit streets, late night bus journeys, the London underground, and strobe-lit deserted dancefloors.
WATCH IT HERE:
Over the last 18 months, Rudimental's record label Major Toms has continued to grow and welcomed new signings to its line-up of talented artists, including singer-songwriter Morgan and performer, host and vocalist Afronaut Zu.
Anne-Marie, who is long-term signee of the label, recently dropped her anthemic comeback single 'Birthday' as well as latest track 'To Be Young' featuring Doja Cat.
Tion Wayne is fresh from scoring his first UK Top 10 single with 'I Dunno' ft. Dutchavelli & Stormzy and is fast cementing his reputation as one of the UK's leading and most versatile new-gen rap voices.
CHECK OUT 'BEHINED THE SCENES' FROM 'COME OVER' HERE:
Little "behind the scenes" from COME OVER ❤️ @AnneMarie @TIONWAYNE @kingcrowney pic.twitter.com/q85uTrU94D

— Rudimental (@Rudimental) September 23, 2020
'Come Over' has given fans a taste of what to expect from Rudimental's upcoming fourth studio album. The release will be the follow-up to 2019s 'Distinction' EP and their third full-length 'Toast To Our Differences', which boasted 2018s biggest-selling UK single 'These Days' ft. Macklemore, Jess Glynne & Dan Caplen. The track has since accumulated over one billion streams worldwide.
Photo Credit: Ewen Spencer