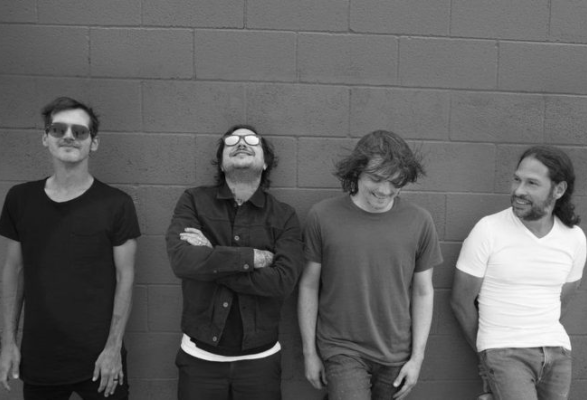 My Chemical Romance have revealed brand new six-minute surprise single 'The Foundations of Decay'.
The slow-building, chorus-packed track is their first new song release as a band since 2014 and lands just days before their Eden Sessions live dates next week.
LISTEN TO IT HERE:
The arrival of 'The Foundations of Decay' has fans speculating as to whether the emo legends will debut further new music on their upcoming tour and if a new album could be on the way.
My Chemical Romance announced their return to music in late 2019, six years after confirming their split in 2013. After dropping farewell single 'Fake Your Death' the following year as part of greatest hits compilation 'May Death Never Stop You', frontman Gerard Way and bandmates Ray Toro, Frank Iero and Mikey Way went their separate ways.
In 2020, Way posted a string of tracks on SoundCloud as well as unveiled single 'Here Comes the End', which he created for his hit Netflix show The Umbrella Academy.
Now, after 11 years, the band will bring their highly anticipated reunion tour to stadiums across the UK & Ireland this month.
My Chemical Romance UK & Ireland Tour Dates:
Eden Sessions @ Cornwall Eden Project, 16 May + Frank Turner
Eden Sessions @ Cornwall Eden Project, 17 + Lost Alone
Milton Keynes Stadium MK, 19 + Placebo + Lost Alone + Aviva
Milton Keynes Stadium MK, 21 + Placebo + Barns Courtney + Cassyette
Milton Keynes Stadium MK, 22 + Placebo + Starcrawler + Charlotte Sands
Dublin Royal Hospital Kilmainham, 24 + Gayle + Starcrawler
Dublin Royal Hospital Kilmainham, 25 + Gayle + Starcrawler
Warrington Victoria Park, 27 + Frank Turner + Starcrawler + Crawlers
Cardiff Sophia Gardens, 28 + Starcrawler + Lost Alone
Glasgow OVO Hydro, 30 + Starcrawler
Remaining tickets on sale now from Gigantic Ticketmaster AXS Eventim The Ticket Factory See Tickets
Image Credit: PRESS