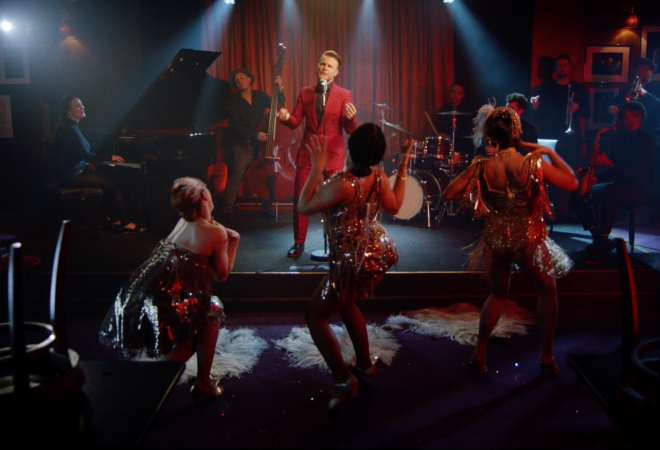 Gary Barlow has revealed the official music video for latest track 'Incredible', lifted from his forthcoming album 'Music Played By Humans', due out on 27 November 2020.
The 80-piece orchestra shines bright on this upbeat ode to love, which gives a beautiful nod to the orchestral and big band music that captured Gary's imagination and led to the album of original compositions. The Michael Baldwin directed music video was shot at the famous Ronnie Scott's Jazz Club in London and serves as the perfect accompaniment to the track.
WATCH IT HERE:
'Incredible' is the follow-up to the album's first single 'Elita', which saw the Take That frontman team up with Canadian superstar Michael Bublé and Columbian singer Sebastián Yatra for the sultry Latin-pop fusion number.
The fun, vibrant video was directed by Vaughan Arnell and filmed remotely with Gary in London, Michael in Vancouver, and Sebastián in Miami.
WATCH IT HERE:
The album is also set to feature guest collaborations from the likes of James Corden, Barry Manilow, Chilly Gonzales, Alesha Dixon, Beverley Knight, Ibrahim Maalouf and Avishai Cohen.
'Music Played By Humans' is Gary Barlow's first solo album since 2013's double platinum-selling 'Since I Saw You Last.' Recorded with a full 80-piece orchestra, it blends a multitude of eclectic sounds and styles to deliver one of the most exciting albums of the year.
He commented, "My ambition when we started this album was to create something really bright, a celebration of music and the wonderful musicians we have in the UK and around the world. Some of it is recorded with an orchestra, some with quartets, a Latin band, and some of the tracks have jazz and big band sections – it really is music played by people, hence the title of the album – Music Played By Humans."
He recently rescheduled his Music Played By Humans The Tour to winter 2021 plus special guest Beverly Knight – CLICK HERE FOR TICKETS
One of Britain's most successful singer-songwriter's, Gary Barlow has written 14 No.1 singles, including 10 with Take That, three solo hits as well as huge single 'Candy' with former bandmate Robbie Williams.
Check out the full tracklisting for 'Music Played By Humans' below:
Who's Driving This Thing
Incredible
Elita (ft Michael Bublé & Sebastían Yatra)
The Big Bass Drum
This Is My Time
Enough Is Enough (ft Beverley Knight)
Bad Libran
Eleven (ft Ibrahim Maalouf)
Before We Get Too Old (ft Avishai Cohen)
Supernatural
Oh What A Day (ft Chilly Gonzales)
What Leaving's All About (ft Alesha Dixon)
The Kind Of Friend I Need (ft James Corden)
I Didn't See That Coming
DELUXE
Let's Get Drunk
The Day The World Stopped Turning
You Make The Sun Shine (ft Barry Manilow)
Incredible (Live)
Incredible (Charleston Remix)