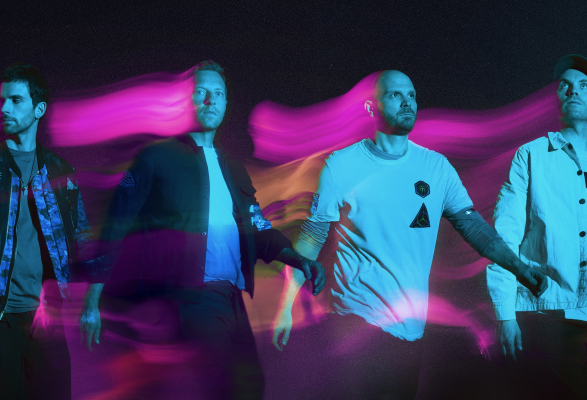 Coldplay have revealed the official music video for latest single 'Higher Power'.
Directed by Dave Meyers, the video sees the band explore colourful trash planet "Kaotica", complete with its own alien language "Kaotican", robot dogs, giant holograms and a street-gang of dancing aliens performed by Seoul's Ambiguous Dance Company.
WATCH IT HERE:
Since its release last month, 'Higher Power' has already accumulated over 75 million streams and topped sales and airplay charts across the globe.
The track made its big premiere via special link-up with French ESA astronaut Thomas Pesquet on board the International Space Station
The band took to Twitter to officially announce the single posting, "Higher Power is a song that arrived on a little keyboard and a bathroom sink at the start of 2020. It was produced by Max Martin who is a true wonder of the universe. It's out on Friday 7 May. Love c, g, w & j"
The statement confirmed fans suspicious after cryptic billboards appeared at locations across the globe pointing to a mysterious website called alienradio.fm.
Frontman Chris Martin also since shared a clip of himself singing along to the song next to Glastonbury's iconic Pyramid Stage ahead of the band's appearance on the festival's special virtual event Live At Worthy Farm on 22 May 2021.
CHECK IT OUT HERE:
Higher Power @glastonbury ?

Global livestream, Sat 22 May

Tickets: https://t.co/ePyt0l3vRo #Glastonbury #HigherPower #Oxfam #WaterAid #Greenpeace pic.twitter.com/bmPnJTyvK7

— Coldplay (@coldplay) May 3, 2021
Coldplay's last full-length was 2019s 'Everyday Life'. The acclaimed No.1 album featured tracks 'Orphans', 'Champion Of The World' and 'Trouble In Town' and was released as a double LP 'Sunrise' and 'Sunset'.
Image Credit: Dave Meyers / Pilar Zeta