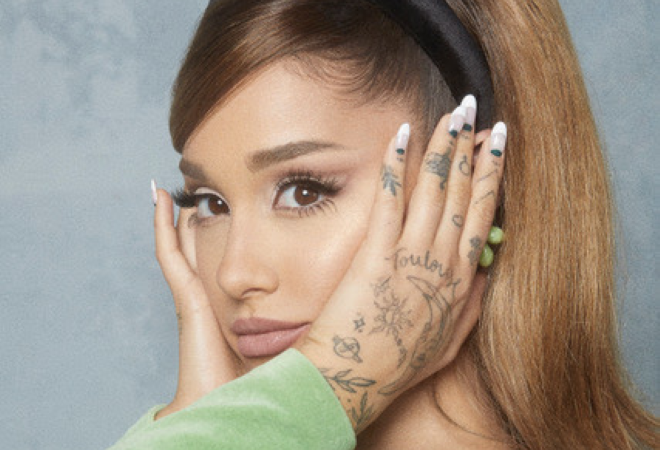 Last month, Ariana Grande dropped her '34+35' Remix featuring Doja Cat and Megan Thee Stallion.
The global pop sensation first revealed the new version of the track after teasing it on her social media with a cartoon video clip showing the silhouettes of three women.
The trio have since been sharing behind-the-scenes selfies of the music video, which sees them throw a lavish slumber party.
WATCH THE '34+35' MUSIC VIDEO HERE:
Prior to the track's official release, 'Say So' singer and rapper Doja Cat had hinted that she had teamed up with Grande and Megan Thee Stallion when she noted the then eight people that she was following on Twitter, posting "Following them for a reeeeaaaaasssoooonnn 😉 Guess why."
Along with Ariana and Megan, the list included French Montana, Young Thug, The Weeknd, SZA, A$AP Ferg and Saweetie, signalling that some more exciting collabs could still on the way.
Ariana Grande dropped her sixth studio album 'Positions' in October last year, featuring her hit single of the same. The release boasts further collaborative tracks with the likes of The Weeknd and Ty Dolla $ign. The singer also enlisted Doja Cat for her track 'Motive'.
'34+35' was the album's highly anticipated second single followed by the official music in November, which saw the singer play both a scientist as well as the robot she brings to life.
WATCH IT HERE:
Grande recently revealed that a deluxe edition of 'Positions' is due out later this month and will include the '34+35′ remix along with four new songs.
The pop R&B music sensation is currently nominated for a 2021 Grammy Award alongside Lady Gaga for Best Pop Duo/Group Performance for their 2020 hit 'Rain On Me'.
'Positions' Album Tracklisting:
shut up
34+35
motive feat. Doja Cat
just like magic
off the table feat. The Weeknd
six thirty
safety net feat. Ty Dolla $ign
my hair
nasty
west side
love language
positions
obvious
pov