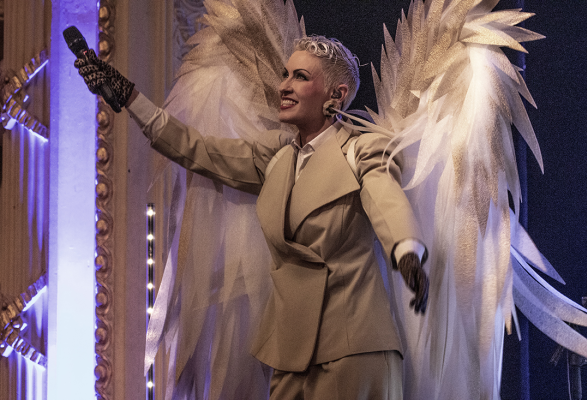 Cover bands give fans the awesome opportunity to hear some of their favourite music performed live.
More than often, they pay tribute to the music legends of the past as well as those that don't tour very often.
Why Tribute Bands Rock
Good or bad, they are a fun way for music lovers to spend an evening singing along to some of their favourite tunes.
A room filled with people who love the same kind of music always makes for a great atmosphere and with setlists jam-packed with hits, everyone is guaranteed to be familiar with the songs and love what they hear.
Top Cover Band Gigs
There are many fantastic tribute acts around with some of the best cover bands regularly playing the live circuit. Read on for some of our personal favourites and where you can catch them live.
Guns 2 Roses
Established back in 2002, they are the UK's longest-running Guns N' Roses tribute and have officially been dubbed the biggest tribute to the rockers in history. The band have lined-up a run of shows for the remainder of this year as well as 2024.
Tickets on sale now from Gigantic Ticketmaster Ticketweb See Tickets
Definitely Oasis
Regarded as one of the best Oasis tribute band's around, they regularly sell-out gigs across the UK. Later this year they will join The Complete Stone Roses to exclusively perform debut albums 'Definitely Maybe' vs 'The Stone Roses'.
Tickets on sale now from Gigantic Ticketweb See Tickets
Fleetwood Bac
Endorsed by the mighty Mick Fleetwood himself, the world-famous tribute act is dedicated to replicating the classic Rumours era of the iconic band. Catch them on the road next year performing the greatest hits of Fleetwood Mac.
Tickets on sale now from Gigantic Ticketmaster Ticketweb See Tickets
The Bootleg Beatles
A Beatles tribute band formed from the West End cast of the Broadway musical 'Beatlemania' back in 1980. Over the years they have performed in front of thousands of people, including the likes of Sir Paul McCartney, George Harrison, George Martin and Her Late Majesty, The Queen. They'll be performing across the UK in 2023/24, with a have special gig lined-up at London's Royal Albert Hall this autumn.
Tickets on sale now from Ticketmaster AXS See Tickets
Other notable tributes include The Australian Pink Floyd, The Smyths, Absolute Bowie, ABBA Reunion, Killer Queen as well as the Whitney Queen of the Night and What's Love Got to do With it – Tina Turner Tribute touring shows.
There are also tribute music festivals to look out for such as the Live Forever Festival and Towneley Tribute Festival, that celebrate cover bands on a larger scale.
Cover Songs
Even at the peak of their careers, many artists and bands cover songs, often as a way to pay tribute to their music icons or to connect with some of their personal favourite songs.
For rising artists it's also a good way to bump up their setlists or show appreciation to a special track that's had a great impact on their lives or music career. Additionally, recording or performing covers has become a popular way to get recognised.
Check out our top 10 best cover songs of all time HERE.
Have you got a favourite cover band or song? Let us know!
Image Credit: Geoff Griffe / Yourythmics
(Click here for more photos + full gig review)