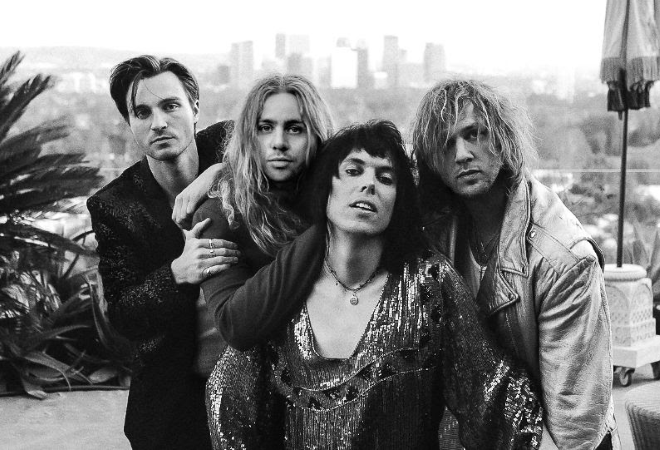 The Struts have shared brand new explosive single 'I Hate How Much I Want You' featuring Def Leppard's Phil Collen and Joe Elliott.
The track will feature on the British glam rockers upcoming third album, due out for release on 16 October 2020.
Phil Collen commented, "I loved the sound of The Struts since the moment I first heard them so it gives me great pleasure that Luke and the boys asked myself and Joe to participate in some mutual, mischievous, explosive rowdiness,"
Joe Elliott added, "When Luke called me up and asked if I fancied lending my voice to The Struts new album I said yes before I even knew what he wanted…I've been a massive fan of the band since I first heard them so it's not just a pleasure, it's an honour to be part of this 'born in Covid' album, and what a song! Makes me feel like a kid again every time I hear it!"
LISTEN TO IT HERE:
'I Hate How Much I Want You' will appear on The Struts new 'Strange Days' album alongside further collaborations by the likes of British pop legend Robbie Williams, Rage Against the Machine guitarist Tom Morello and Strokes guitarist Albert Hammond Jr.
The record came to life during lockdown after the band all moved to the LA home of producer Jon Levine, who they worked extensively with on their acclaimed second album 'Young & Dangerous'.
Lead singer Luke Spiller commented, "It was so much fun to make a record this way instead of getting everything done in between touring, working with multiple producers in multiple countries…We were all just burning to capture that excitement as much as we possibly could, and at times it felt like the songs were literally just falling from the sky. It was undoubtedly a magical ten days for us—and I hope when people hear the album, it gives them a taste of that magic too."
The Struts 'Strange Days' Album Tracklisting:
Strange Days
All Dressed Up (With Nowhere To Go)
Do You Love Me
I Hate How Much I Want You
Wild Child
Cool
Burn It Down
Another Hit Of Showmanship
Can't Sleep
Am I Talking To The Champagne (Or Talking To You)
Photo Credit: Beth Saravo