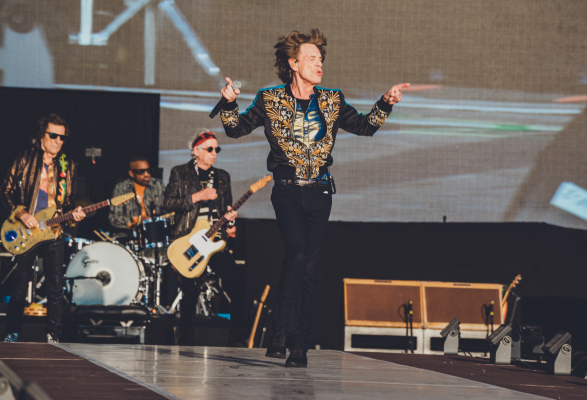 Image Credit: LOU MORRIS
Well, how can you put into a few words, what the Rolling Stones are or what they mean in the history of music. Well, you can't. Their contribution is immeasurable, and tonight we have the great pleasure in seeing them at the fantastic British Summer Time series of concerts in Hyde Park, and basically celebrating 60, yes 60 years as a band, and smashing it out of the park.
They may look a little worn around the edges. Well, if you lived the life that they have led, you would, and Mick Jagger is nearly 80, but my god he was on fire with an age defying performance that had him running the long walkway into the crowd, skipping and gyrating all over the place. The man is incredible and looked like he was having the time of his life, with a big grin on his face all through. His voice again, is in fine condition and he has that "we are The Rolling Stones, and we can do whatever we want" confidence about him.
And now to his long-time partner in crime, Keith Richards. Again, how the hell is this man still breathing let alone, playing guitar in the biggest band in the world! But here he is striding onto the Hyde Park stage with yet another big grin, alongside Ronnie Wood, and all night you could see, the kinship and respect these two guitar gods have for each other, every now and then laughing at each other and grabbing a quick hug, great to see. Obviously, we have lost Charlie, but the night started with a showing of video and photographs celebrating Charlie's life as a Stone, with Mick dedicating the gig to him, which was followed by the crowd chanting "Charlie, Charlie", emotional.
But now down to business, kicking off with 'Get Off My Cloud', and of course the crowd went ape, singing their heads off, which to be honest was the order of the night. Straight into '19th Nervous Breakdown', 'Tumbling Dice' and the first of my own faves, if you can have a favourite song, 'Out Of Time', and a tour debut of 'Angie', another fav, sublime. There were a couple of tour first's tonight, including Dylan's 'Like A Rolling Stone', the crowd erupting into ear bursting singing, drowning out the band! Spine tingling. I'm not going to go through the entire set list, as everyone has songs that they would want playing. They have so many, but not enough time, and to be honest, anything played by the Stones will do. That's the legacy that they will leave.
I know I said I wouldn't go through the setlist, but when you look back on tonight you keep wanting to mention more, like 'You Cant Always Get What You Want', 'Honky Tonk Women', 'Miss You', 'Paint It Black', 'Start Me Up', 'Gimme Shelter', 'Jumpin Jack Flash', 'Sympathy For The Devil', and of course topping the brilliant night off with a storming version of 'Satisfaction'. I don't Know about Mick and the boys but the crowd were exhausted! And we don't know how many more times we will have the chance to see this legendary band, but it was a privilege to be in Hyde Park tonight, and too be honest on this showing if they want to go on, they should, because I can guarantee, none of the 50,000 here tonight would hesitate in paying for a ticket. 80 years of age or not, gentlemen we salute you, and I can also guarantee we will never see a band like this again.
Review by Geoff & Jenny Griffe
With thanks to Caitlin Buller and all at outside-org.co.uk for all their help.