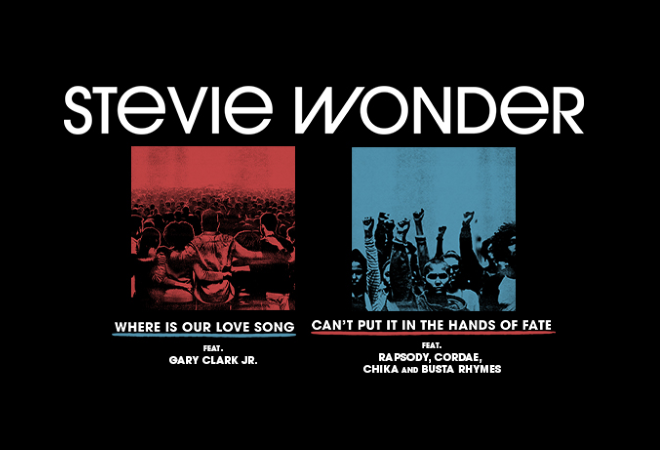 Stevie Wonder has released brand new music in the form of two new songs 'Where Is Our Love Song' ft. Gary Clarke Jr. and 'Can't Put It In The Hands Of Fate' ft. Rapsody, Cordae, Chika, and Busta Rhymes.
The legendary American singer-songwriter unveiled the new tracks during a livestreamed press conference as well as announced that he will be leaving Motown Records. Stevie Wonder was first signed by Berry Gordy to Motown's Tamla label back in 1961 at just 11 years old.
In addition, Wonder has teased plans for the songs to feature on a new compilation EP ahead of a "new project" entitled 'Through The Eyes Of Wonder'.
LISTEN TO 'WHERE IS OUR LOVE SONG' HERE:
LISTEN TO 'CAN'T PUT IN THE HANDS OF FATE' HERE:
It has been 15 years since the 'I Just Called To Say I Love You' singer has dropped a new album. Since his 2005 full-length 'A Time To Love', he has released a handful of singles, including 2016s 'Faith' ft. Ariana Grande. He has also contributed to various tracks by artists such as Travis Scott, Celine Dion, Drake and Barbra Streisand.
The piano playing music icon has received 74 Grammy nominations, of which he was awarded 25, as well as achieved 28 Billboard Hot 100 Top 10 hits.
He has said that all proceeds from new track 'Where Is Our Love Song', which he first began writing at the age of 18, will go towards the US-based non-profit organisation Feeding America.
Stevie Wonder's last UK performance was a headline slot on the second night of BST Hyde Park in 2019 with very special guest Lionel Richie.