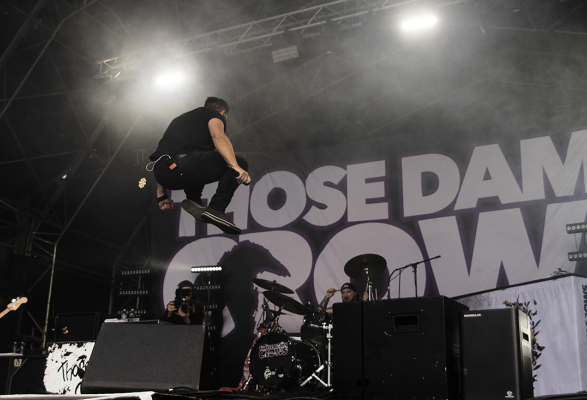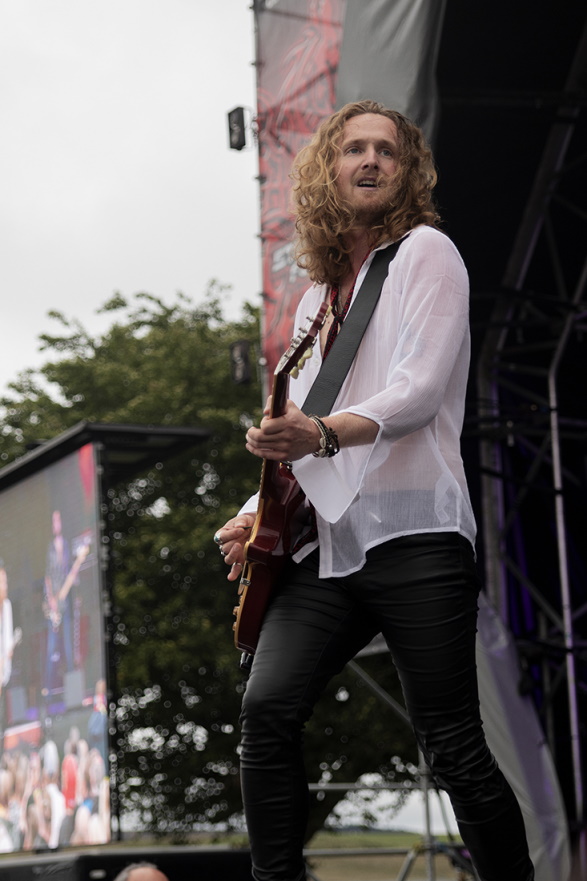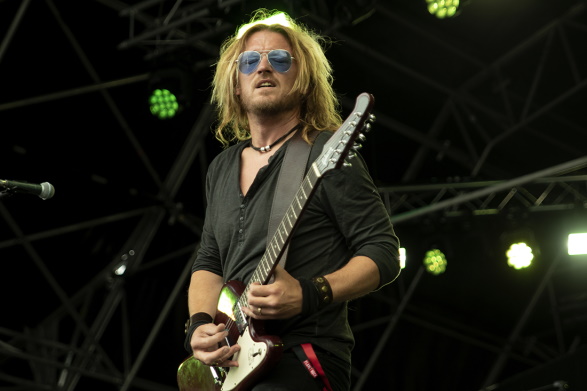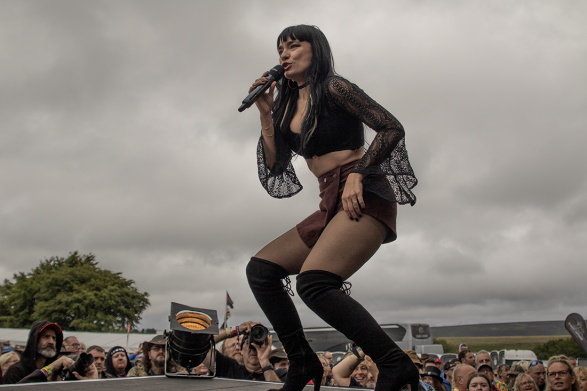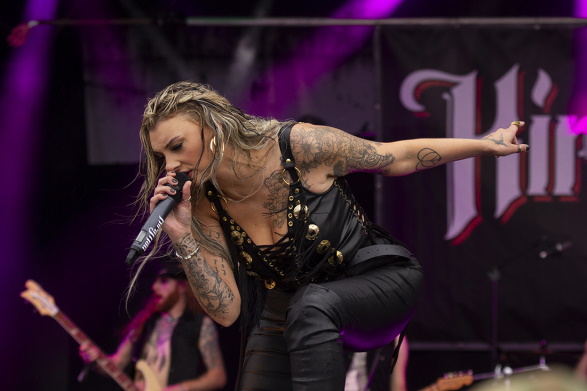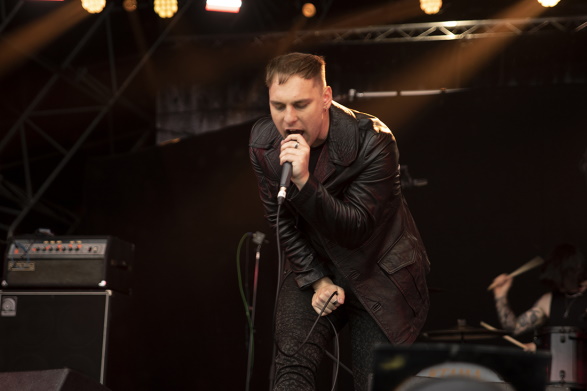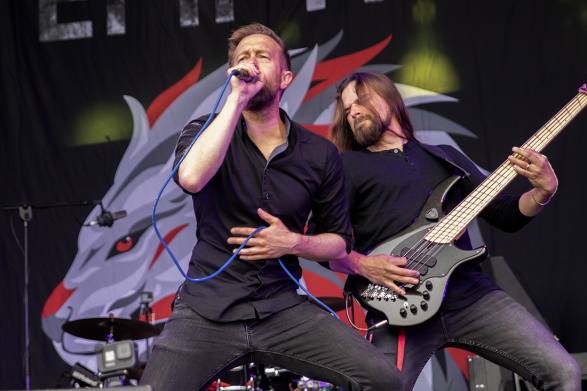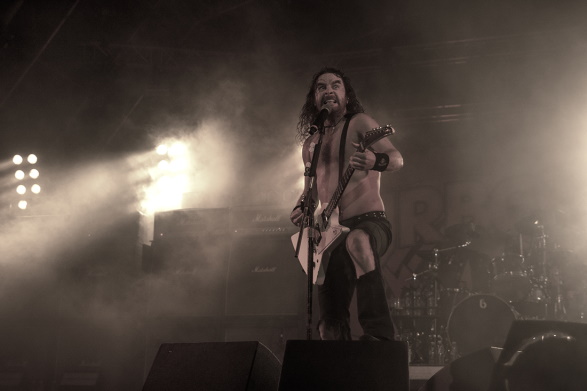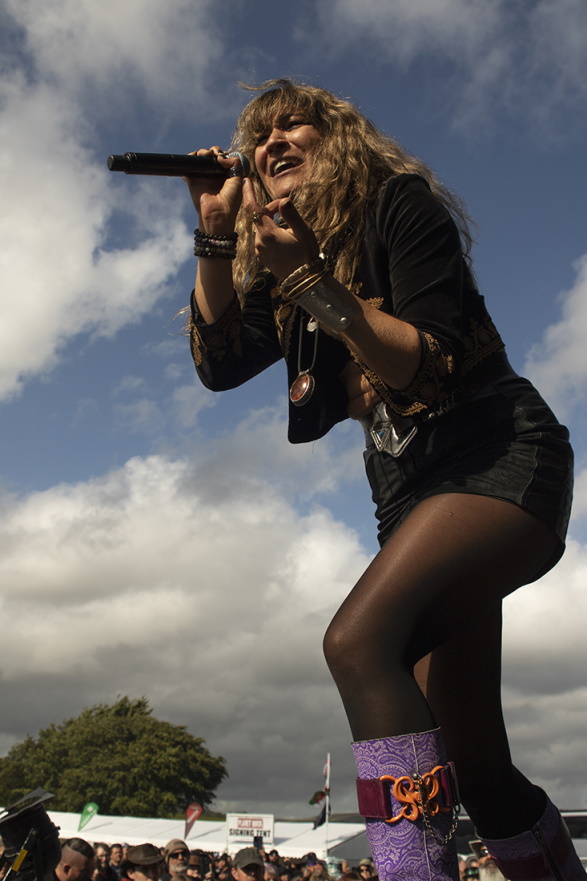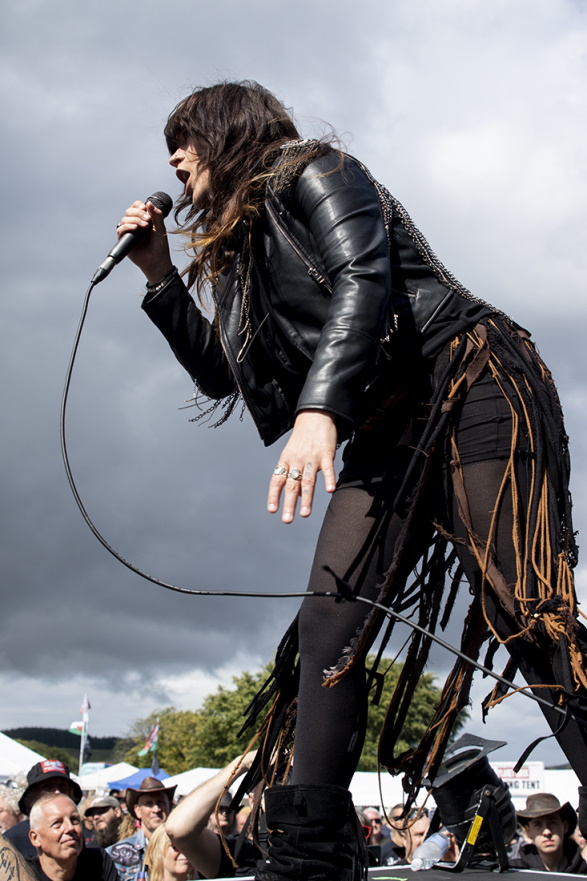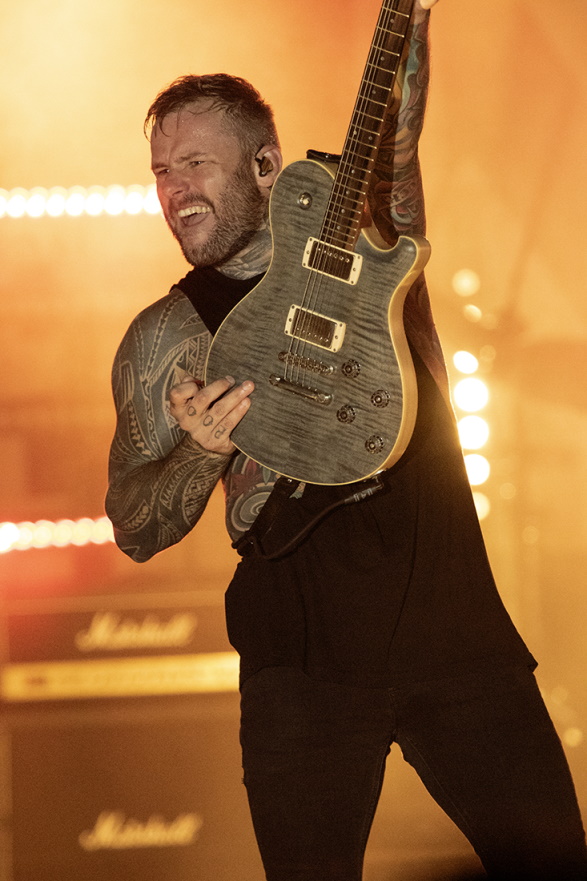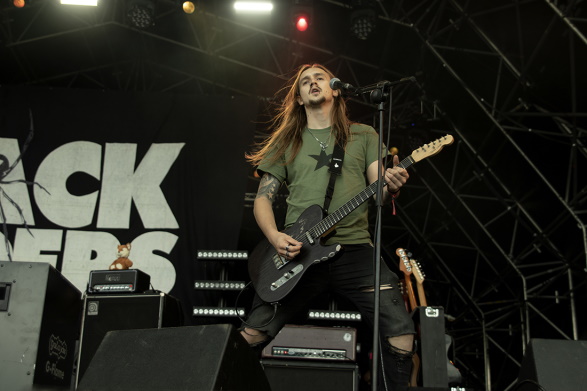 Steelhouse Festival 2023 – (Up A Mountain!!) No Really.
This is the first time at the Steelhouse rock festival for us, and we are looking forward to 3 days of rock in the mountains of South Wales. Arriving on the Friday late morning, eventually we get to the top, and yes, it is a stunning view for a festival, but on this occasion, it was blowing like a good un, and made the erecting of the tent a bit hairy. With the tent eventually put up, we decided to have a walk down to the arena, which is not too far – about a ten-minute walk. The music had been going on for a while as the bands go on quite early here presumably as there is only one stage, so you don't get clashes occurring. On the bill there is a mixture of bands we all know and some we hadn't come across before. Amongst the ones we did know luckily for us a little later on the bill, were When Rivers Meet, Ginger Wildheart and headlining Kris Barras. Catching The Karma Effect, who gave the growing crowd a nice energetic set of classic seventies style rock, next one of the band's we have been watching and following for a while now, When Rivers Meet, who have been growing in stature as a live unit. The couple gigged hard alongside the release of their album, and what a cracking set. Grace was in great voice and loved the extended walkway of the stage, with really awesome harmonies and some great fuzzy guitar work by husband. During the cracking set we were introduced to a new single 'Perfect Stranger', and a slightly darker brooding sound, which went down a storm and may have been an omen for the weekend! With a new album on the way, things are only looking up for this talented duo.
Ginger Wildheart and band The Sinners were on next, although Ginger was unfortunately unable to appear tonight due to ill health. They delivered a good time dancy rock set and all here wishing for a quick recovery. They were a perfect warm up for Kris Barras, who came out all guns firing with 'Hail Mary', in a typical blues infused attack on the crowd, with some excellent guitar work as we have come to expect from Barras. There were a couple of surprises on the way, namely, a cover of Lewis Capaldi's, 'Forget Me' and Led Zeps 'Rock and Roll'. Barras joined the crowd for an extended 'My Parade', which was a goosebump inducing finale to the first night up the mountain.
Saturday was the day you could say we were looking forward to the most as we knew and have followed the likes of The Damn Truth, Florence Black and Blues Pills. But halfway through we found out Blues Pills aren't playing, not sure why, but was a big downer for us. Dead Man's Whiskey kicked proceedings off with a competent set, followed by Austin Gold. The Peterborough rockers have more than an hint of Foo Fighters about them, with an anthemic song 'Mountain', which seems very apt got the crowd singing along, nice. With Black Spiders stepping in for Pills, they played a rousing set with killer hooks, and rousing riffs, before leaving to appear at another festival later in the night. We will look forward to catching Black Spiders at a later date. Amongst the overseas visitors are Belgium's, Black Mirrors, an unusual fit for this festival. There's a touch of the Kate Bush about the black gothic influenced dressed singer Marcella Di Troia's performance and we don't think that they were helped by quite a low volume to the PA, but seemed to be winning over the crowd, which wasn't easy probably due to the lack of knowledge of their stuff. We would like to catch them in a smaller venue at some point. Now for some more overseas acts. Canada's The Damn Truth, a band we have seen live and bought their first album pre-pandemic, and they have come out of it with a great album, 'Now Or Nowhere', and raunchier big sound, and coming off a tour were festival ready, and boy did they rock the mountain. In Lee-La Baum, they have a special singer, a mix of Janis Joplin and Grace Slick, straight into 'This Is Who We Are Now', went full throttle all the way in a whirlwind of colour, enhancing their psychedelic vibe. All the band constantly going up and down the runway, they know how to put on a show these Canadians, wow!! Next up Florence Black, we saw this group a while ago at KK's Wolverhampton, and liked them a lot. Tonight, they seem heavier than we remembered, but much appreciated by the crowd, especially their version of 'Budgies Bread Fan'. Is it because they're playing outside or is the heavier Florence Black the direction they are going in? Watch this space. Flying the flag for Wales, Those Damn Crows, and boy did they wave it. Frontman Shane Greenhill seemed to connect with the partisan crowd on a different level to any on the day, with a superb set of class rock songs, they are assured in what they are doing and the direction will lead to bigger and bigger things. By the way we lost count of the amount of TDC's t-shirts, they were everywhere. Headlining tonight, Airborne, with a typical balls to the wall assault on our senses, not even a broken foot in a surgical boot can slow, Joel Okeeffe down. Still as mad as a hatter, running and swinging the gammy leg, in a typical Airbourne performance, the usual carry on shoulders around the crowd, smashing a lager can on his nut. Yes, people can say they are a AC/DC copy, but who gives a ****? They entertain and sent the crowd to their tents very happy indeed.
Opening Sunday was Troy Redfern, but alas after deciding after a very windy and wet night we had decided to make an early run for it, probably toward the end of Blackstone Cherry's headline set, with the forecast absolutely crap, so missed Redfern. Empyre played a set of dark moody tunes, which suited the weather conditions, but then again that's Empyre. You don't really expect up-tempo smiley songs, but some of their stuff we thought bordered on prog, nothing wrong with a little cross over is there? The Cruel Knives worked hard to connect with the crowd in the rain and were well received with a rock/punky energetic performance, with some classy guitar work on show. We would like to have another look at the Knives in a smaller venue. Now for one of our targeted bands, Kira Mac. After seeing them at Brum Asylum, we were bowled over so wanted to see how they tackled a much larger arena, the answer should never have been in doubt. They smashed it and must take the award for most time on the very wet runway, not giving it a second thought as Rhiannon Hill and her cohorts ran up and down having a ball in the rain, producing a cracking set, with the crowd loving it, and it's a bit obvious that they should get used to these larger shows. After such a fun energetic set, you had to pity The Vintage Caravan to follow Kira Mac. They were up against it, and this three-piece, from Iceland showed in the talky bits that they have a sense of humour. They certainly are talented, but their slightly quirky songs didn't quite hit the mark, sorry guys.
After a lot of thought, and wet conditions, we decide at this point cold, getting wetter with no let up to make a run for it, alas missing The Answer and headliners Black Stone Cherry. Based on if we left it too late and parked on a rain sodden grass incline, we might not get off and with a three-hour drive home, after getting off-site. But on reflection on our first time at Steelhouse we have to say we really enjoyed it. Imagine if it had been proper summer weather, the organisation excellent, the food and drink retailers of good quality, and in most cases not too expensive, and the location if the weather was good is spectacular. The atmosphere is really good, and we found out why on Friday there were so many very loud Hawaiian/colourful/crap shirts, etc. – its encouraged!! It's called Sh*t Shirt Friday, a great idea. If you're brave enough, all in all, we would love to attend this rock in the Welsh mountain festival again, and keep fingers crossed for the weather next time.
Our ones to watch for future? Well, it's what we expected, they are, The Damn Truth, When Rivers Meet and Kira Mac.
Photos by Geoff Griffe
Review by Jenny Griffe
VIEW OUR STEELHOUSE FESTIVAL PHOTO GALLERY HERE
Steelhouse Festival 2024 earlybird tickets on sale now from Gigantic