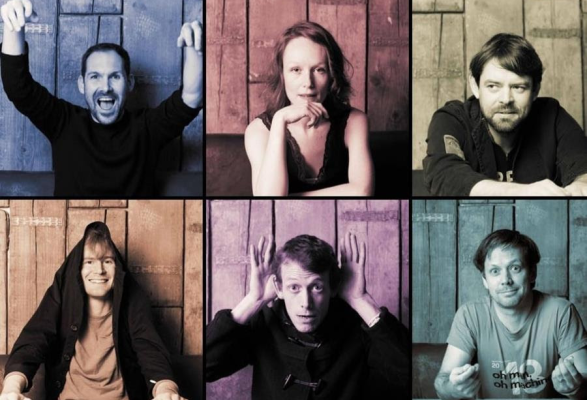 Sea Power have shared new single 'Green Goddess', taken from their forthcoming new album 'Everything Was Forever', due out on 18 February 2022.
'Green Goddess' follows previously released tracks 'Two Fingers' and 'Folly'. Outside of their BAFTA-winning soundtrack score for the award-winning and multi-million-selling video game Disco Elysium, the songs represent the English alt rockers first new music in five years.
Discussing the single, vocalist/guitarist Jan Scott Wilkinson commented, "Green Goddess was written with [guitarist] Noble. He had the initial idea for the music which I helped arrange and add vocals to. It is a love song about everything green from the Lake District to the New Forest. The places I love to be which are quiet and restorative. It is also a love song for my wife whose favourite colour is green. A rumination on human and non-human muses. There are dark and complicated things going on but sometimes it is good to forget this and go to the places and where you are happy. A hope that the future doesn't have to be at odds with the past."
LISTEN TO 'GREEN GODDESS' HERE:
Sea Power have lined-up a run of headline UK shows for this spring – details below:
Southampton 1865, 12 April
Birmingham O2 Institute, 13
London Roundhouse, 14
Bristol O2 Academy, 19
Sheffield Leadmill, 21
Glasgow St Lukes, 22
Manchester Albert Hall, 23
Tickets on sale now from Gigantic Ticketmaster Ticketweb See Tickets
The band is Jan Scott Wilkinson on vocals/guitars, Neil Hamilton Wilkinson on vocals/guitars, Martin Noble on guitars, Matthew Wood on drums, Abi Fry on viola and Phil Sumner on keyboards/cornet.
Sea Power 'Everything Was Forever' Full Album Tracklisting:
Scaring At The Sky
Transmitter
Two Fingers
Fire Escape In The Sea
Doppelgänger
Fear Eats The Soul
Folly
Green Goddess
Lakeland Echo
We Only Want To Make You Happy
Photo Credit: Hollywood / PRESS