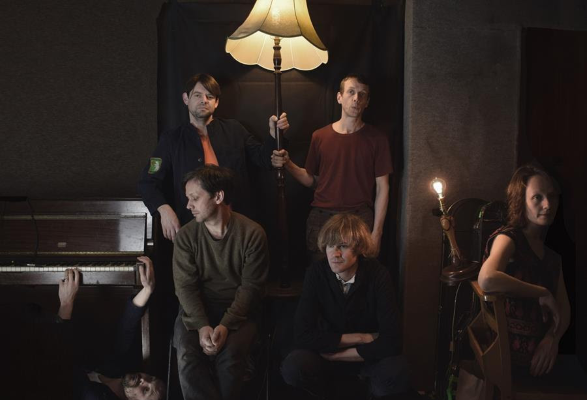 The ensemble has confirmed details of their first new album in five years as well has revealed that they have changed their name to Sea Power.
The upcoming full-length, entitled 'Everything Was Forever', is due out on 11 February 2022.
LISTEN TO THE ALBUM'S LEAD SINGLE 'TWO FINGERS' HERE:
Co-frontman Yan commented, "The song is part inspired by our late dad…He was always giving a two-fingered salute to people on the telly – a kind of old-fashioned drinking term, toasting people or events: 'I'll drink two fingers to that', to some news item or to memories of a childhood friend. In the song it's a toast to everyone, remembering those in our lives and those sadly no longer here and to making the world a better place. The song is 'F*** me, f*** you, f*** everything.' But it's also 'Love me, love you, love everything' – exultation in the darkness. If you say 'f*** you' in the right way, it really can be cathartic, a new start."
The Mercury-nominated, BAFTA-winning band said they decided to change their name to Sea Power to avoid any misinterpretations of jingoism.
Alongside the name change, which comes 20 years on from their inception, they have also shared that they "deeply love the British Isles" and "feel lucky to have been born and raised across these lands".
CHECK OUT THEIR OFFICIAL ANNOUNCEMENT HERE:
Goodbye British Sea Power. Hello Sea Powerhttps://t.co/wc7Fh6feLn pic.twitter.com/BfK6wuMOba

— Sea Power (@SeaPowerBand) August 9, 2021
The band features Jan Scott Wilkinson on vocals/ guitars, Neil Hamilton Wilkinson on vocals/guitars, Martin Noble on guitars, Matthew Wood on drums, Abi Fry on viola and Phil Sumner on keyboards/cornet.
Sea Power 'Everything Was Forever' Full Album Tracklisting:
Scaring At The Sky
Transmitter
Two Fingers
Fire Escape In The Sea
Doppelgänger
Fear Eats The Soul
Folly
Green Goddess
Lakeland Echo
We Only Want To Make You Happy
Image Credit: Hollywood