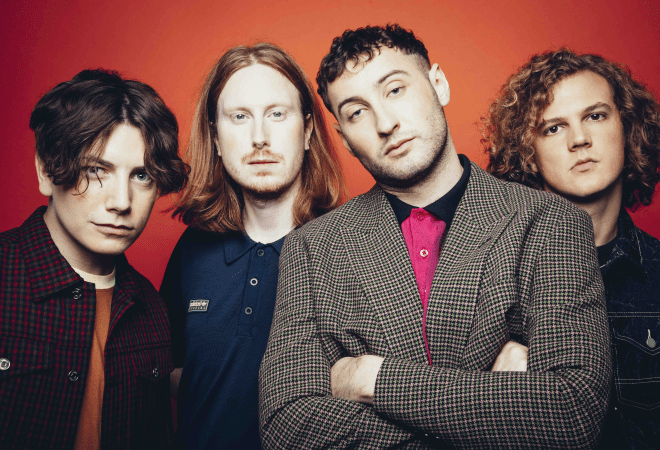 Sea Girls have released new anthemic single 'Ready For Me', lifted from their forthcoming 'Under Exit Lights' EP, due out on 06 March 2020.
Currently one of the UK's most exciting new bands on the scene, 2019 proved to be a big year for the band, named after a misheard lyric from a Nick Cave song. After signing a major record deal with Polydor, they have toured across the globe as well played their biggest UK show to date after selling out the London Forum.
The brand new EP is set to have a more serious tone than previous singles 'Violet' and 'Damage Done'. Lead singer Henry Camamile commented, "The lyrics for these songs draw their soul from my life of late nights and the mornings after – about being young and going out a lot. It involves dark thoughts, anxiety, but ends in hope, positivity and optimism."
Discussing their latest single, he continued, "'Ready For More' is the bad apple of the EP. It looks and sounds sweet, but it's basically staring into this abyss of nihilistic behaviour and being scared that I couldn't change it. This song practically embraces the slippery slope I was on."
LISTEN TO 'READY FOR ME' HERE:
Sea Girls have been confirmed for this year's Neighbourhood Weekender in May and will hit the road on their biggest UK tour yet in April. Manchester and Glasgow dates have already sold out – remaining tickets for Birmingham and London shows are on sale now from Gigantic Ticketmaster See Tickets
Check out the full tracklisting for 'Under Exit Lights' EP below:
Ready For More
Why Won't You Admit
Closer
Violet
Timeless
Soldier On
Sea Girls are Henry Camamile on vocals/guitar, Rory Young on guitar, Andrew Dawson on bass and Oli Khan on drums.
Photo Credit: Matthew Parri Thomas