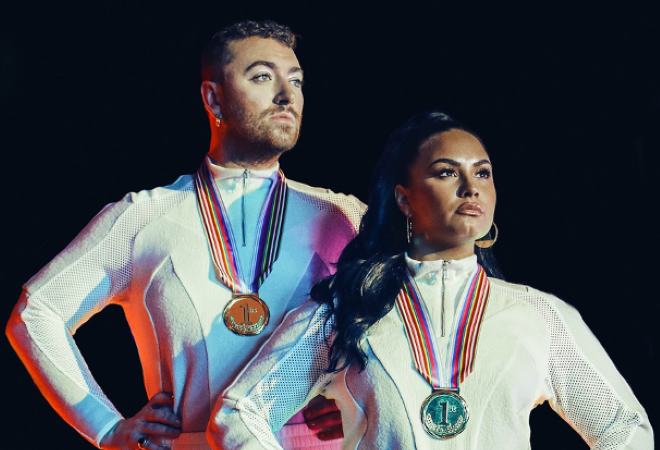 Sam Smith and Demi Lovato have teamed up for brand new single 'I'm Ready'.
The global singing sensations announced their new collaboration on Instagram live earlier this week. The anthemic new single is total pop perfection, with emotive lyrics and strong vocal performances from two incredible artists.
The official music video was directed by Jora Frantzis and features choreography by Sean Bankhead. Both Sam and Demi star in the visuals alongside a host of other characters who take part in an Olympics of their very own, complete with a medal ceremony as the song draws to a powerful climax.
WATCH IT HERE:
Over the last 12 months Sam Smith has released a string of singles including 'To Die For', 'How Do You Sleep?' and 'Dancing With A Stranger' with Normani. He also recently announced that he would be postponing the release of his upcoming third album – more details are due to be revealed in coming months and he has assured fans that the record will be dropping sometime this year.
2020 is also shaping up to be a big year for Lovato whose spirit, determination and vocals are stronger than ever. After dropping her powerhouse ballad 'Anyone', she returned to the stage at the Grammy Awards for an emotive stripped-down performance as well as sang the National Anthem at the Super Bowl. The multi-platinum singer-songwriter also recently released self-reflective new single 'Love Me', accompanied by a Hannah Lux Davis directed music video.
WATCH IT HERE: