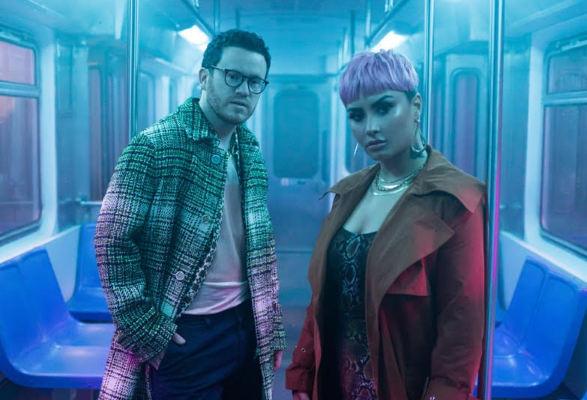 Australian singer-songwriter Sam Fischer and US popstar Demi Lovato have revealed the official music video for new single 'What Other People Say'.
The emotive Dano Cerny directed video stars both artists who find themselves on an emotional train ride, conveying the song's message of being alone together.
WATCH THE 'WHAT OTHER PEOPLE SAY' MUSIC VIDEO HERE:
The track was penned by Fischer prior to his hit track 'This City' becoming a huge global success.
Sam commented, "What Other People Say is a confession, realizing how far away you can get from who you are in an effort to be liked. It's about the pressures of society and how getting caught up with the wrong things can change you."
Demi said, "This song is a reflection on what it's like to lose who you truly are in an effort to please other people and society. It's why I wanted to make this song with Sam – ultimately it's about two humans coming together to connect and find solutions to their problems."
Alongside the initial announcement of the collaboration, Sam Fischer has been selected as YouTube's first 'Artist on the Rise' for 2021, following in the footsteps of previous winners Mabel, Aitch, Freya Ridings, Mahalia, Beabadoobee and Celeste.
The TikTok sensation released his project 'Homework' last year. The EP includes the song 'This City', which has been certified Platinum in the UK and accumulated over 350 million worldwide streams, more than two million worldwide sales and over 50 million video views.
Previously, Fischer has toured across North American with friend Lewis Capaldi as well as worked with other huge artists such as Ciara, Lennon Stella, Louis Tomlinson, Elle King, Jessie J and Virginia To Vegas.
Since dropping her 2008 debut studio album 'Don't Forget', Grammy-nominated Demi Lovato went from Disney child star to top selling artist. Her previous full-length releases are 2009s 'Here We Go Again', 2011s 'Unbroken', 2013s 'DEMI', 2015s 'Confident' and 2017s 'Tell Me You Love Me'. Some of her biggest tracks include 'Cool For The Summer', 'Heart Attack' and 'Sorry not Sorry'.
More recently Demi has collaborated with the likes of Sam Smith on 'I'm Ready' and Marshmello on 'OK Not To Be OK'.