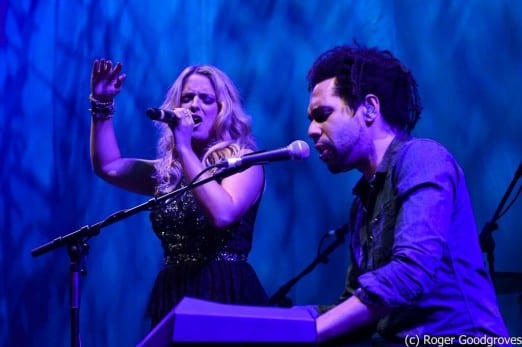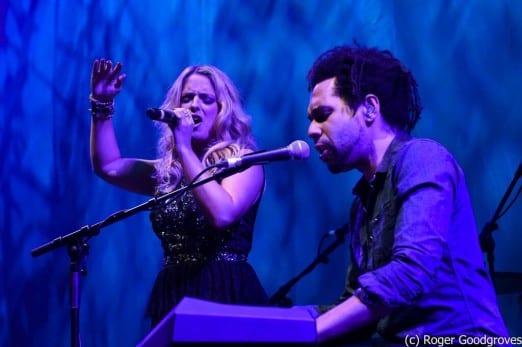 According to The Shires, 'it's alright [we] can get a little drunk on a [Saturday] night' and that's what we did, at the O2, all in anticipation of The Corrs returning to tour.
The Shires did not disappoint the packed stadium. This was certainly not a support act you would have wanted to miss.
I am a secret fan of country and folk music (perhaps not too secret when it comes to Dolly!) and have noticed its growing fan base in the UK over the last few years, just look at Glastonbury goers in 2014 with the arrival of Dolly!
The Shires are no Dolly Parton nor are they your 'typical' American country band. Hailing from our very own Home Counties, they put on a show that didn't let us down.
With tasseled boots and tasseled skirt, Crissie Rhodes, looking 'comfortably sexy', took us on a tour of Country. Her stage presence was endless, as was her excitable personality. It was hard not to enjoy the show.
Ben (Earle) came without the tassels but did not let us down with his vocals or playing.
If Crissie looked and sounded the part, her partner was not to be outdone. Hiding behind his guitar, he allowed Crissie to take centre stage for the majority of their set, his voice harmonising perfectly with hers. As with their song 'Jekyll and Hyde' it is here we got to see his Mr Hyde, and what a wonderful one it was too! The beginning to this song displayed perfectly Ben's guttural vocal powers. With an almost 80's like sound, his voice drips sexily from behind the strong beats of guitar and drum. Crissie powerfully joins in and as with all their harmonies, they perfect each other. There is sexual innocence to their voices when put together. You can't help but be moved.
Rather wonderfully, from my point of view, they did their own rendition of Dolly Parton and Kenny Rodgers' 'Islands in the Stream'. Having had an ongoing love for Dolly for many years, and having murdered this very song at many a karaoke, I was excited, to say the least!
Ben's guitar playing is haunting and his voice gently pulls you in. Once Chrissie blends her voice in, it truly becomes The Shires' song. Crissie's strong and powerful voice becomes delicate and fragile – this is truly the perfect way to tell a love story.
They finish with a collaboration with the audience. We're separated in two teams: Ben's and Crissie's. The stadium is only too pleased to join in and we end the set with a sing off of 'Tonight, you're mine I'm yours', and I am rather happy to say Crissie thought her team won (I was on her team), I sung my heart out. If you were to ever have the fortune of meeting her for a night out, outside of music, I very much doubt you would have a dull evening.
Would I recommend going to see them live? Very much so. I was left with such a positive and happy vibe from a very talented band.
Review by: Ciannait Fitzpatrick