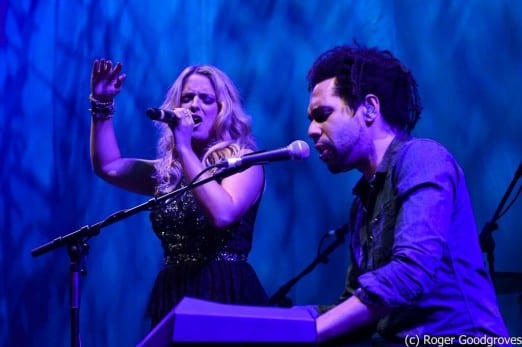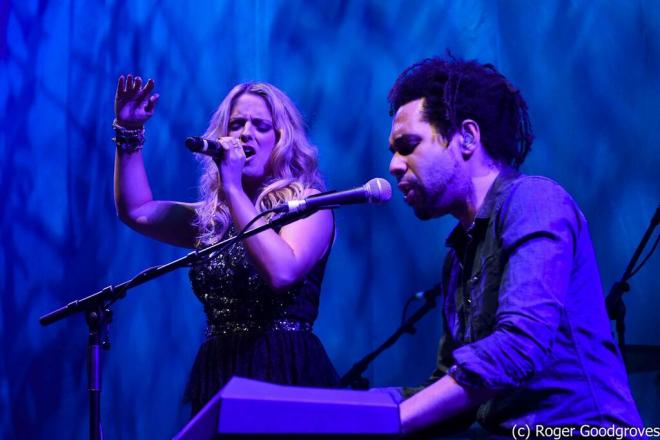 The stage's backdrop is a simple gold wheat field with far away mountains, reminiscent of Steinbeck's Salinas. The stage, empty but of instruments, stands in bright lights. This simple contrast of setting mirrors that of the contrasts The Shires bring to their audience. Tonight's music will be delicate, it will be bold, it will be melancholy, it will be joyous; it will take the audience on a rollercoaster of emotions leaving it exhausted but satisfied.
It is Catherine McGrath, a slight 19-year-old girl from Northern Ireland, who warms us up, her voice is amazing. She is set to do a good few festivals over the summer (BST, Latitude, Truck, Wilderness, Kendall Calling and more).
Her stage style is relaxed. She opens up like an old friend, talking and singing of secrets and life. You can't help but like her. Her music and voice is a combination of LeAnn Rimes, Sarah McLachlan and Michelle Branch. If you're looking for new live music this year, I would definitely recommend catching her if you can.
After a brief break, Big and Rich's 'Save a Horse, Ride a Cowboy' permeates through the theatre. The band, shadows in blue lights, enters the stage. Anticipation rises and we are buoyed and encouraged to make some noise. Crissie and Ben enter the stage, the former sparkling in gold and silver, the latter, never veering from the old staple of dark jeans and dark shirt, embrace us like old friends. Their humility at playing in what is arguably the most famous theatre in London is quite evident. Ben even shouts out he can't quite believe they are playing there.
They begin their set with 'Nashville Grey Skies'. For those who had seen the set list from their previous gigs, there were no surprises. However, it is not the set list you should be going to see The Shires for but the intimacy, the passion, and the commitment they bring to music.
Both Crissie Rhodes and Ben Earle have the ability to take you on a journey by just using their voices. There are no dramatic costume changes or theatre designs. The lighting is uncomplicated, simply dancing across the audience and the theatre's elegant ceilings.
With each song there is a story behind it and the audience is privy to it all. We hear about their time in Nashville (a documentary was made for BBC4); writing collaboratively with other Country artists in a kitchen in Bedfordshire; performing their cover of Robbie Williams' 'Angels' to Robbie Williams; and we hear about Ben becoming a dad last year on the morning The Shires were playing Glastonbury juxtaposed with Crissie's loss of her father to cancer.
The last story is followed with 'Daddy's Little Girl'. Crissie's voice is full of emotion and strength. The auditorium is silent, holding its breath. Her voice echoes throughout and we hang on every word, every note. The pain of her loss unmistakable. The song ends and the audience erupts. Ben speaks for us all when he says 'it breaks my heart [hearing her sing that] every single day' and they are straight into the next song, ironically 'Brave', with the words 'It's not the first time, I've seen you cry. You don't have to be so brave.' The place is full of raw emotion. Rather thankfully, there is a drop and the drums, the bass and guitars create a cacophony of noise releasing the pressure. This is something The Shires do in albums and concerts. They take you on a journey of ups and downs and at the very brink of falling into despair they save you with joy and cheer!
There are some brilliant guitar solos and some great mix-ups of country and rock that are definitely worth hearing.
The final two songs are, again, the antithesis of each other. From the haunting sadness of 'Other People's Things' to the uplifting energetic celebration of love with 'A Thousand Hallelujahs'. Everyone, including the 'nosebleed seats' is on their feet, hands raised, clapping, singing. This is a celebration. Crissie and Ben take their leave and after much noise and joy, the band follows shortly afterwards.
If you've yet to see them live – go.
You can catch them at the Isle of Wight Festival this year, and there are other gigs in Chelmsford, Gateshead, Glasgow and Cardiff.
Review: Ciannait Fitzpatrick
Photo: Roger Goodgroves (Taken at Conrbury Festival)