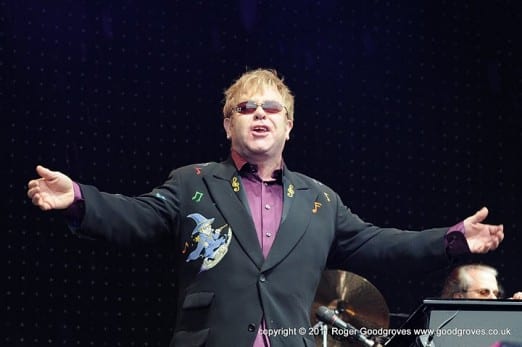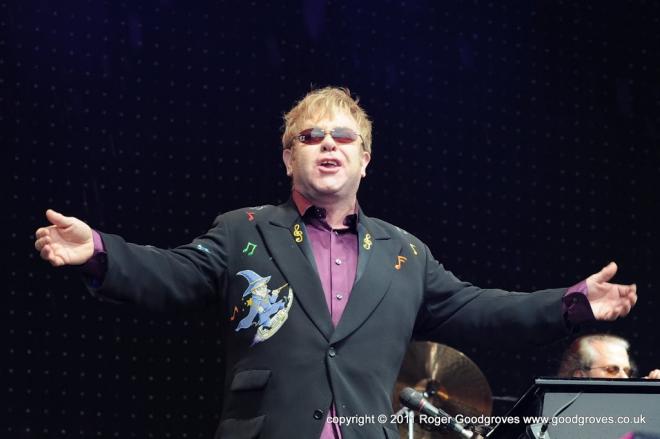 'The Bitch is Back' and even Mother Nature stood to attention. Sir Elton John shows his fans he's more than still standing!
The Harlequins' (south London's rugby team) stadium, The Stoop, was to hold the momentous occasion of his return and even one of its own, Nick Evans (Harlequins and ex New Zealand All Black) was ready to dance the night away.
The gig brought tears, sunshine, thunderous rain and laughter. Not to mention a huge amount of singing and dancing. This was a gig of festival proportions.
After an opening by Jake Isaac, a voice reminiscent of Seal's (he's good, definitely worth a listen and if you like his sound, check out his tour dates across the U.K this September), the stage is left silent and black. The hum of anticipation buzzes through the stadium; it is cut with the entrance of Sir Elton John. Dressed in a white suit emblazoned with crystals and roses of pink, reds and purples, he oozes legendary status and the crowd goes wild. Straight onto his Yamaha piano, he is where he belongs: in front of an adoring audience of thousands, with a piano at his fingertips.
'The Bitch is Back' delights the audience, as too does the sporadic flamboyant posturing!
The show is brilliant. The pitch, covered with empty chairs, is a dancing singing mass of energy. The audience is too buoyed to sit.
Before a faultless rendition of 'I Guess That's Why They Call It The Blues' Sir Elton tells his fans how great it is to be back in front of his piano, '…at one point it was very touch and go that I'd be here. I'm very grateful to be alive.' There are roars of celebration.
Sir Elton is flawless on the piano. His fingers dance gaily across the keys. He glitters on stage.
We are treated to songs from his new album, 'Wonderful Crazy Nights', he tells us 'A Good Heart' is his favourite; and old favourites of ours including: 'Your Song', 'Daniel', ' Tiny Dancer' and 'Rocket Man'.
Sir Elton is your perfect party host – he gives the audience what it wants: coming to the front of the stage and shaking hands with those lucky enough to be there; he bows, he talks, he sings, he introduces his band, including his drummer, Nigel Olsson (no man could smile more than he!), who was in Sir Elton's original line up in 1969!
Two and a half hours in to the concert and only a small chink of blue sky remains. Big dark grey clouds roll in as Sir Elton states, 'I haven't played this song in the UK since George died' and ironically the heavens open and 'Don't Let The Sun Go Down On Me' is sung out across the stadium. The audience on the pitch get soaked but they are not about to let either Sir Elton or George Michael down and they sway in time singing along for all to hear.
The rain miraculously clears as quick as it started and 'I'm Still Standing' rings out, followed by 'Crocodile Rock'. Everyone is on their feet, from young to old, all dancing and singing. It couldn't be a happier place to be.
There is the occasional sniffer dog that prowls the grounds – sadly, a sign of the times – but no one's spirits are dampened and the walkways are filled with smiling faces and dancing feet. Sir Elton pays tribute to those who lost their lives 'in the concert that night in Manchester '(UK). 'I Want Love' rings out.
The final song, 'Saturday Night' shows the strength in his voice and relentless enthusiasm for music. Not once in the show would you have recognised a man in his seventies or a man recently out of intensive care. He is called a legend for a reason!
With the stage empty, the audience rumbles their want for more. He returns with 'Candle In The Wind'. Phones are held aloft and their lights sway in the dusk of The Stoop.
Sir Elton takes his leave and despite roars for more it is time to pack away, for this legend has more love to spread and joy to give. There are still a few tickets left to see this great man perform live, if you can, do it!
Review by: Ciannait Fitzpatrick