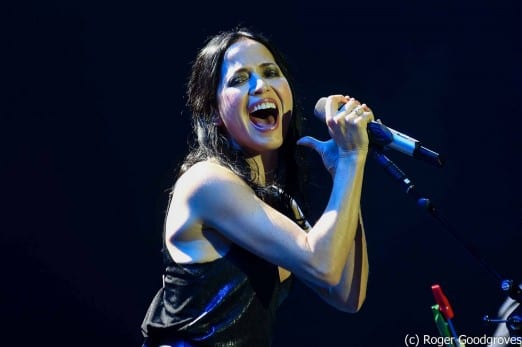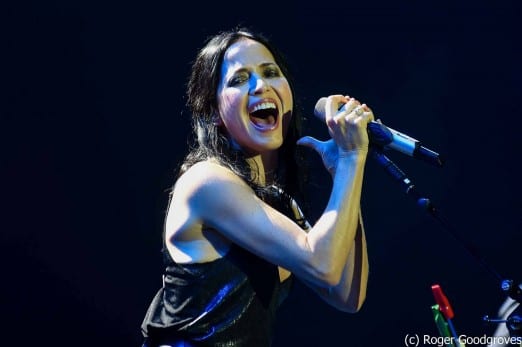 Lights go out. Silence. A drum can be heard beating through the darkness. Gutsy, hypnotic, animalistic, it prowls the arena, touching all it vibrates through.
Lights flicker but darkness prevails. There is a rawness to the arena, not what you would necessarily expect at a Corrs concert.
A white screen appears on stage and the silhouette of Caroline appears; her graceful movements flow while the drum beats its tempestuous march. The stage is full of her, full of drums, full of noise. Lights flicker on and off. Strobe lights seem to increase the velocity. The drum beats faster, the audience are filled with a wildness. The screen on stage drops. The Corrs are revealed. Whistles, screams, cheers, drums, strobe lights fill the arena; the audience have been beaten into a frenzy. The drums stop. Silence.
Lights fill the stage with a blue hue and the opening bars of 'I Do What I Like' fill the arena; the crowd is in Paradise. 10 long years they have waited for this and finally it is here.
Andrea skips coquettishly to the front of the stage, spotlight on her, she does indeed do what she likes: her dark eyes heavily made up: intense; her black tasselled short skirt swings and sways as she skips and dances on stage. This a far more raw version of The Corrs. There is a desire, openness, maybe an aggression I've not seen or heard from them before, and it's exciting.
Throughout, there is a constant low rumble of the drum; our heartbeats, our want? Whatever it is, it is that that keeps us greedily wanting more.
They bring out old favourites including: 'What can I do take to make you love me?', 'Listen to the Radio' and 'Forgiven, Not Forgotten' – was there always such a hauntingly musical embrace at the beginning?
Of course, The Corrs, would not be complete without their traditional instrumentals and they do so with the three ladies centre stage. Jim, as always, seems happy to stay in the shadows of his three beautiful sisters.
The final instrumental is a rousing one and as it ends the tempo declines with another old favourite, 'Runaway', the audience's appreciation is clear.
The tempo has clearly come down and they share new songs full of longing and fragility. We are taken on a journey, a journey of loss and new beginnings. 'Ellis Island' sings of emigration and we observe the journey across the Atlantic Ocean to America looming high in black and white over this small Irish band.
The emotion is palpable. The entire stadium is filled with Smartphone torches gently swaying; we are all mesmerised.
The set ends after a 'thunderous' rendition of 'Thunder only Happens…' and
Andrea's black and white portrait hangs huge against a red background, a dramatic ending to a dramatic show.
They leave and reluctantly the audience starts to leave and although we think we should start making tracks, we stay, clutching on to the hope of one more song.
Our patience is rewarded. White lights bounce off the stage and their title song fills the O2.
They gave us new, they gave us old, they gave us passion and grace and fire and desire. They gave us what we wanted.
The Corrs may have been gone but if this audience is anything to go by, they will certainly never be forgotten.
This is The Corrs grown up; raw, passionate and intense. If you are lucky enough to get a ticket, get one – this is comeback tour of the most enjoyable intensity.
Review by : Ciannait Fitzpatrick