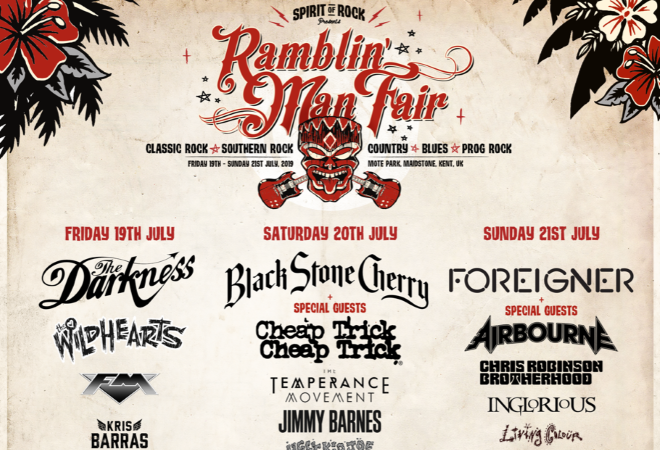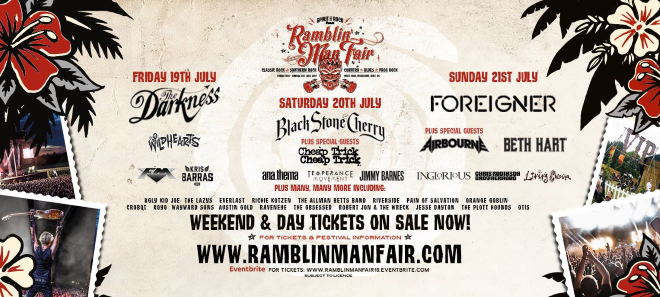 Following on from the critically acclaimed and commercially successful fourth year in 2018, Ramblin' Man Fair is back this summer! Featuring a quality line up and various UK exclusive performances, the event is fast becoming one not to be missed for avid festival goers.
Ramblin' Man Fair will take place at Mote Park, Maidstone, Kent on 19-21 July 2019, tickets on sale now from Ticketmaster
Check out the 2019 Line Up so far…
Friday 19th July
Planet Rock Main Stage
THE DARKNESS
The Wildhearts
FM
Kris Barras
The Lazys
Saturday 20th July
Planet Rock Main Stage
BLACK STONE CHERRY
Cheap Trick
The Temperance Movement
Jimmy Barnes
Ugly Kid Joe
Wayward Sons
Raveneye
Outlaw Country Stage
ALLMAN BETTS BAND
Robert Jon & The Wreck
Jesse Dayton
The Plott Hounds
Otis
Wille and the Bandits
Prog in the Park Stage
ANA.THEMA
Riverside
Pain of Salvation
Koyo
Vola
Scardust
Sunday 21st July
Planet Rock Main Stage
FOREIGNER
Airbourne
Chris Robinsoon Brotherhood
Inglorious
Living Colour
Austin Gold
Blues Stage
BETH HART
Ritchie Kotzen
Elles Bailey
Everlast
Chantel McGregor
Sweet Crisis
Grooverider Stage
MONSTER MAGNET
Orange Goblin
Crobot
Obsessed
King Creature
Saturday 20th and Sunday 21st July
Rising Stage
Gin Annie
Outlaw Orchestra
Cellar Door Moon Crow
Fallen State
Dust Bowl Jokies
Rainbreakers
Salvation Jayne
Ryders Creed
Matt Mitchell & The Coldhearts
Be sure to add Ramblin' Man Fair to your festival calendar this year!