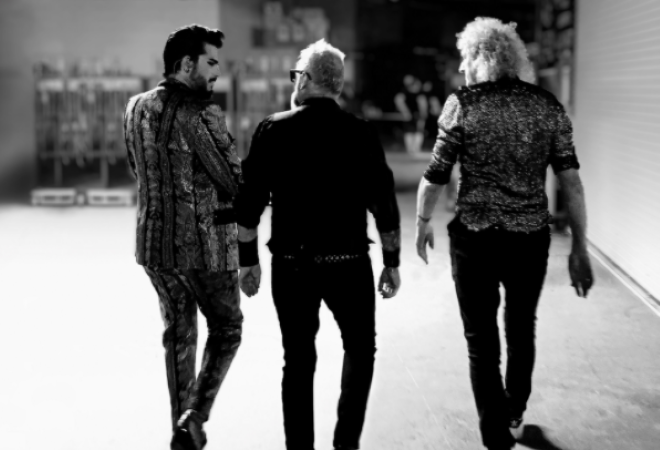 Queen + Adam Lambert are gearing up to release their first-ever live album 'Live Around The World', due out on 02 October 2020.
After having to postpone their UK & European summer tour until next year, news of the album will be a welcomed surprise for the almost half-a-million fans who were due to see them on stage this year.
Since first performing together in 2009 after Queen members Brian May and Roger Taylor appeared as guests on the finale of American Idol season eight where Lambert was a contestant, they have gone from strength to strength to become one of the world's biggest touring bands.
Following the global blackout of live shows, the band turned to YouTube to present a special 'Tour Watch Party', which was viewed by over 500,000 fans.
Roger Taylor commented, "We hadn't really watched those clips before, we were always too busy touring…We weren't aware of how good the band sounded. So we thought, well, maybe there's a live album of highlights of concerts that we've done over the last eight years with Adam Lambert to be made."
CHECK OUT THE OFFICIAL ALBUM TRAILER HERE:
Discussing the historic live album Brian May said, "As we all grapple with the challenge of creating live shows in a world dominated by a formidable viral enemy, it seemed the perfect time for us to create a collection of hand-picked live highlights from our Queen shows over the last 7 years with our brother Adam Lambert."
Adam Lambert added, "When we couldn't tour this year we wanted to give the fans something in place of that, and a Live album just felt right. It's the first time we have released an album together and we have had a lot of fun putting it together, picking out favourite performances over the past seven years'."
Queen + Adam Lambert's only previously released track is their lockdown version of 'You Are the Champions'. The song accumulated close to four million views on YouTube and proceeds were donated towards the Covid-19 Solidarity Response Fund for The World Health Organisation.
The Rhapsody Tour Rescheduled Dates:
London The O2, 01, 02, 04, 05, 07, 08 June
Manchester Arena, 10, 11
Birmingham Utilita Arena, 13, 14
London The O2, 16, 17, 19, 20
Tickets on sale now from AXS Ticketmaster The Ticket Factory (Original tickets remain valid)
Queen + Adam Lambert 'Live Around the World' Full Album Tracklisting:
Tear It Up (May) The O2, London, UK, 02/07/2018
Now I'm Here (May) Summer Sonic, Tokyo, Japan, 2014
Another One Bites The Dust (Deacon) Summer Sonic, Tokyo, Japan, 2014
Fat Bottomed Girls ft. Dallas Cowboys Cheerleaders (May) American Airlines Center, Dallas, USA, 2019
Don't Stop Me Now (Mercury) Rock In Rio, Lisbon, Portugal, 2016
I Want To Break Free (Deacon) Rock In Rio, Lisbon, Portugal, 2016
Somebody To Love (Mercury) Isle of Wight Festival, UK, 2016
Love Kills – The Ballad (Mercury/Moroder) iHeart Radio Theater, Los Angeles, USA, 2014
I Was Born To Love You (Mercury) Summer Sonic, Tokyo, Japan, 2014
Under Pressure (Queen/Bowie) Global Citizen Festival, New York, USA, 2019
Who Wants To Live Forever (May) Isle of Wight Festival, UK, 2016
The Show Must Go On (Queen) The O2, London, UK, 04/07/2018
Love Of My Life (Mercury) The O2, London, UK, 02/07/2018
Bohemian Rhapsody (Mercury) Fire Fight Australia, ANZ Stadium, Sydney, Australia, 2020
Radio Ga Ga (Taylor) Fire Fight Australia, ANZ Stadium, Sydney, Australia, 2020
Ay-Ohs (Mercury) Fire Fight Australia, ANZ Stadium, Sydney, Australia, 2020
Hammer To Fall (May) Fire Fight Australia, ANZ Stadium, Sydney, Australia, 2020
Crazy Little Thing Called Love (Mercury) Fire Fight Australia, ANZ Stadium, Sydney, Australia, 2020
We Will Rock You (May) Fire Fight Australia, ANZ Stadium, Sydney, Australia, 2020
We Are The Champions (Mercury) Fire Fight Australia, ANZ Stadium, Sydney, Australia, 2020
DVD / BLU-RAY TRACK LIST
Tear It Up (May) The O2, London, UK, 02/07/2018
Now I'm Here (May) Summer Sonic, Tokyo, Japan, 2014
Another One Bites The Dust (Deacon) Summer Sonic, Tokyo, Japan, 2014
Fat Bottomed Girls ft. Dallas Cowboys Cheerleaders (May) American Airlines Center, Dallas, USA, 2019
Don't Stop Me Now (Mercury) Rock In Rio, Lisbon, Portugal, 2016
I Want To Break Free (Deacon) Rock In Rio, Lisbon, Portugal, 2016
Somebody To Love (Mercury) Isle of Wight Festival, UK, 2016
Love Kills – The Ballad (Mercury/Moroder) iHeart Radio Theater, Los Angeles, USA, 2014
I Was Born To Love You (Mercury) Summer Sonic, Tokyo, Japan, 2014
Drum Battle (Taylor) Qudos Bank Arena, Sydney, Australia, 2014
Under Pressure (Queen/Bowie) Global Citizen Festival, New York, USA, 2019
Who Wants To Live Forever (May) Isle of Wight Festival, UK, 2016
13.The Guitar Solo (Last Horizon) (May) The O2, London, UK, 2018
The Show Must Go On (Queen) The O2, London, UK, 04/07/2018
Love Of My Life (Mercury) The O2, London, UK, 02/07/2018
Bohemian Rhapsody (Mercury) Fire Fight Australia, ANZ Stadium, Sydney, Australia, 2020
Radio Ga Ga (Taylor) Fire Fight Australia, ANZ Stadium, Sydney, Australia, 2020
Ay-Ohs (Mercury) Fire Fight Australia, ANZ Stadium, Sydney, Australia, 2020
Hammer To Fall (May) Fire Fight Australia, ANZ Stadium, Sydney, Australia, 2020
Crazy Little Thing Called Love (Mercury) Fire Fight Australia, ANZ Stadium, Sydney, Australia, 2020
We Will Rock You (May) Fire Fight Australia, ANZ Stadium, Sydney, Australia, 2020
We Are The Champions (Mercury) Fire Fight Australia, ANZ Stadium, Sydney, Australia, 2020