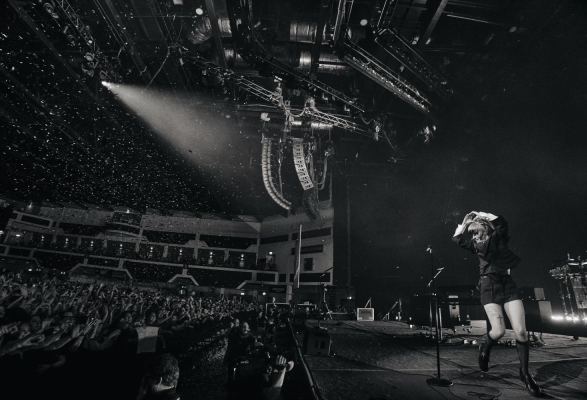 Photo Credit: Zachary Gray

On a lovely sunny Saturday evening at Cardiff International Arena, Paramore must've brought the weather and the ecstatic energy with them from Nashville. I haven't seen Cardiff so full of excitement for a concert in a long time, people have been queuing all day and town is full of Paramore fans. I felt like it was 2009 again, when I first saw them in my hometown. I was personally so excited for this show. To support they had Rozi Plain and Bloc Party.
Rozi Plain is a London based musician who is very folk/alternative rock and it was really relaxing to watch and listen to. Rozi was engaging with the crowd and was so lovely! So pleased she is supporting Paramore, so well deserved. She is playing The Green Man Festival that is local to me, I hope to be there and will definitely catch her set.
Bloc Party! Ugh I just love this band. I first saw them this time last year when I photographed them at BBC Radio 6 Festival that was put on in Cardiff. Back then they blew me away, so I was so l excited to see them again. I'm so glad they supported Paramore, it was overall a great combo of bands, which made the evening so great. Bloc Party played their well-known bangers, and the crowd were all riled up for Paramore to come next.
By now we're all like sardines in this 5,000-capacity venue. I felt very lucky to be there as this gig was so difficult to get tickets. The CIA is a smaller venue to most UK city music venues, so the fact that Paramore keep coming back to us just makes everyone crazy and getting tickets is like gold dust. So once again I'm so grateful to be stood in here with all these people.
Paramore took to the stage and came out playing 'You First', which is a new single from their new album 'This is Why'. They played lots of classic songs like 'Still Into You', 'That's What You Get' and 'I Caught Myself', I want to take a minute to thank Hayley Williams, she is one of the best frontwomen in the industry. She is very genuine with every word she says and how humble she is after all these years. I could watch her all day. I'm so glad us women have an icon such as Hayley as we need to be celebrated of how bad ass we are. Hayley and the band are so energetic and make it feel like a party. The crowd are bouncing and singing just as loud as Hayley, it was so wholesome. I did appreciate Hayley especially when she attempted to cover an Adrianne Lenker's 'What Can You Say' and bless her, her in-ear monitor wasn't loud enough, and she struggled to play it. It was such a shame as it sounded beautiful from what I heard. She attempted so many times, but it just wasn't working for her, but I respect her being transparent and being honest with the crowd.
Zac Faro the drummer is the lead singer of his band 'Half Noise' and during the concert, he gets a segment of he plays once of his songs, which is so nice to see Zac take charge of the stage. Zac and the band play 'Baby', which I have now saved on my Spotify, so thank you for that Half Noise!
Later in the setlist she announced they were playing a song they have never played in the UK, ever. And Cardiff were the lucky ones to have it played. They played 'All I Wanted' from the 2009 'Brand New Eyes' album. As a hardcore fan since 2006, finally hearing that song live was a bucket list ticker offer, AMAZING! I'm so pleased Cardiff got an exclusive. At the end of the show, they play the infamous 'Misery of Business', which she picks fans from the crowd, the lucky Bri and Caz were picked from the 5000 people. They were so overwhelmed, and they absolutely smashed singing Miz Biz! I wanted to join them.
It was one of the best performances from Paramore I've seen and I cannot wait to see them again, 5 years was too long!
Review by Kern Hollie