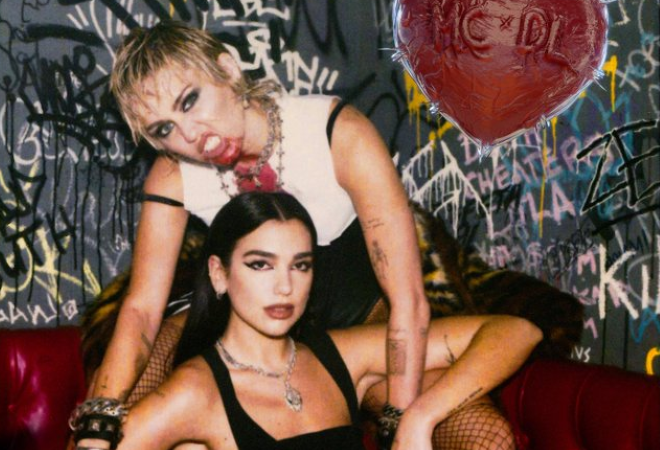 Miley Cyrus has teamed up with global pop superstar Dua Lipa for latest single 'Prisoner'.
The track will feature on her much anticipated seventh studio album 'Plastic Hearts', due out on 27 November 2020.
The dynamic duo both star in the official music video, directed by Alana Oherlihy and Miley.
WATCH IT HERE:
'Plastic Hearts' will also include collaborations with Billy Idol and Joan Jett.
Miley recently unveiled 'Edge of Midnight (Midnight Sky Remix)' featuring Stevie Nicks. The track mashes up her recently released hit single "Midnight Sky' with 'Edge of Seventeen', which appeared on Stevie's debut solo studio album 'Bella Donna' back in 1981.
Cyrus took to Instagram to share the song saying, "@StevieNicks has always been my idol & an inspiration. It's an honor to now call her my friend and collaborator. Edge Of Midnight (Midnight Sky Remix) out everywhere!"
LISTEN TO IT HERE:
This is not the first time that Nicks' classic has been sampled as part of a new song. Destiny's Child borrowed Wachtel's guitar melody for their huge hit 'Bootylicious' in 2001. Despite not appearing on the track itself, Stevie did make a cameo appearance in the music video and can be seen playing her guitar in the opening moments.
Miley Cyrus previously revealed 'Midnight Sky' alongside a bold, retro self-directed music video.
The disco-tinged track showcased a new direction and sound for the artist and was inspired by her life experiences over the past year. The track and visuals were also influenced by female music icons such as Stevie Nicks, Joan Jett and Debbie Harry, who have been some of Miley's greatest supporters and inspiration.
The video takes viewers on an empowering journey through Miley's creative vision that sees her take control of her own narrative from the media and become fully confident and at peace with who she is.
WATCH IT HERE:
Miley had been hinting at her return on social media, posting a clip of the music video for Hannah Montana hit 'Start All Over'. The post was captioned "Meet Miley Cyrus… again. #SheIsComing #ButForRealThisTime".
'Midnight Sky' marks the singer's first new music since her 2019 EP 'She Is Coming' and Mark Ronson collab 'Nothing Breaks Like A Heart'. She also dropped single 'Slide Away' in August last year as well as teamed up with Ariana Grande and Lana Del Rey for Charlie's Angels theme tune 'Don't Call Me Angel'.
Her new album 'Plastic Hearts' is due out for official release on 27 November 2020.
Miley Cyrus' last full-length 'Younger Now' landed in September 2017.