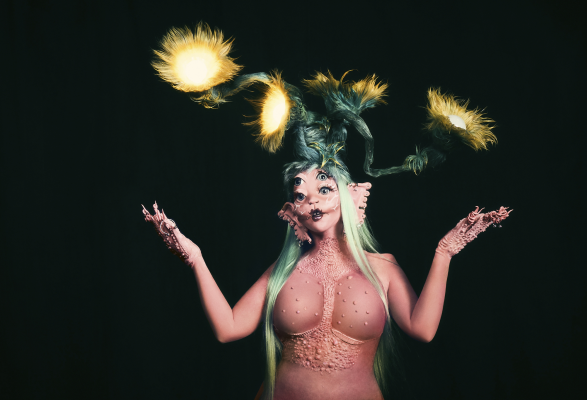 Melanie Martinez has shared new song 'Death', the first track from her upcoming album 'PORTALS', due out on 31 March 2023.
Co-produced by Melanie Martinez and CJ Baran, 'Death' was first teased via a 12-second clip on streaming platforms, which launched alongside a spellbinding trailer revealing the rebirth of fan-favourite character "Cry Baby", sparking a frenzy of fan theories.
LISTEN TO 'DEATH' HERE:
Martinez lifted the curtain on 'PORTALS' last month with an instantly viral TikTok video, with teasers now reaching 115 MILLION views. The cryptic clips confirmed the death of her notorious alter-ego "Cry Baby", last seen considering whether to walk into the light at the beguiling conclusion of 2019s internationally acclaimed full-length film 'K-12'.
WATCH HERE:
'PORTALS' marks the 27-year-old NYC-born singer-songwriter and filmmaker's first full-length release in nearly four years following her 2 billion-streaming, RIAA Gold-certified second album 'K-12'.
"Portals screams death is life is death is life is death is life. A continuous loop. A circle." – MELANIE MARTINEZ
"𝖕𝖔𝖗𝖙𝖆𝖑𝖘" 𝖙𝖍𝖊 𝖆𝖑𝖇𝖚𝖒 𝖈𝖔𝖒𝖊𝖘 𝖔𝖚𝖙 3/31 𓇗 𓆇

𝖕𝖗𝖊-𝖔𝖗𝖉𝖊𝖗 𝖓𝖔𝖜 𓍊𓆑
& 𝔟𝔢 𝔱𝔥𝔢 𝔣𝔦𝔯𝔰𝔱 𝔱𝔬 𝔰𝔢𝔢 𝔱𝔥𝔢 𝔞𝔩𝔟𝔲𝔪 𝔠𝔬𝔳𝔢𝔯…

♡ https://t.co/nGbN2MuaES ♡ pic.twitter.com/TKPGyyzKaW

— Cry Baby (@MelanieLBBH) February 22, 2023
Melanie Martinez 'PORTALS' Full Album Tracklisting:
Death
Void
Tunnel Vision
Faerie Soirée
Light Shower
Spider Web
Leeches
Battle of the Larynx
The Contortionist
Moon Cycle
Nymphology
Evil
Womb
Image Credit: PRESS