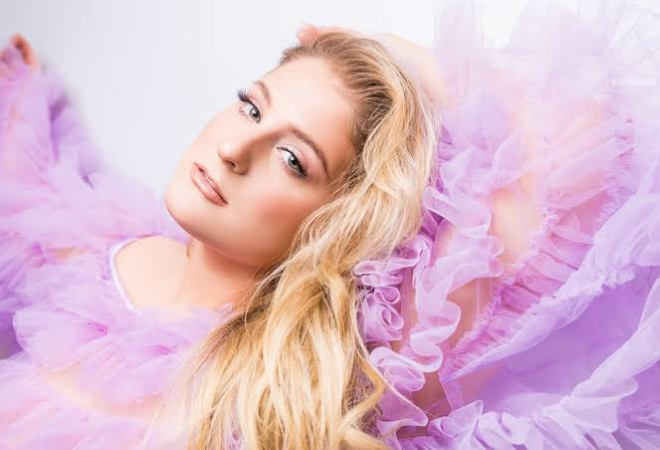 Meghan Trainor has unveiled her 'Treat Myself Deluxe' album, due out on 17 July 2020.
The release is the Grammy Award-winning singer-songwriter and producer's expanded offering of her third full-length album. It will feature the original tracklist along with three brand new songs and unreleased alternate recordings of two fan favourites.
To mark the announcement, Trainor shared new funky, disco-fuelled tune 'Make You Dance' as well as an accompanying lyric video. The confessional number is loaded with relatable lyrics and Meghan's signature vocals for the ultimate "quarantune" to get off the couch and move along to.
LISTEN TO IT HERE:
'Treat Myself' arrived earlier this year and has already accumulated over half-a-billion plays to date. Furthermore, it has generated almost 450 million cumulative streams, with video views surpassing 170 million.
The album features the platinum smash hit 'No Excuses' as well as collaborative tracks such as 'Wave' ft. Mike Sabath, 'After You' ft. AJ Mitchell, 'Genetics' ft. The Pussycat Dolls and 'Nice To Meet Ya' ft. Nicki Minaj.
Check out the full expanded album tracklisting below:
Wave (feat. Mike Sabath)
Nice To Meet Ya (ft. Nicki Minaj)
Funk
Babygirl
Workin' On It (ft. Lennon Stella & Sasha Sloan)
Ashes
Lie To Me
Here To Stay
Blink
Genetics (ft. Pussycat Dolls)
Evil Twin
After You (ft. AJ Mitchell)
Another Opinion
No Excuses
Have You Now
Make You Dance
Underwater (ft. Dillon Francis)
You Don't Know Me
Ashes (Acoustic)
Workin' On It (Acoustic)
Photo Credit: Ryan Trainor