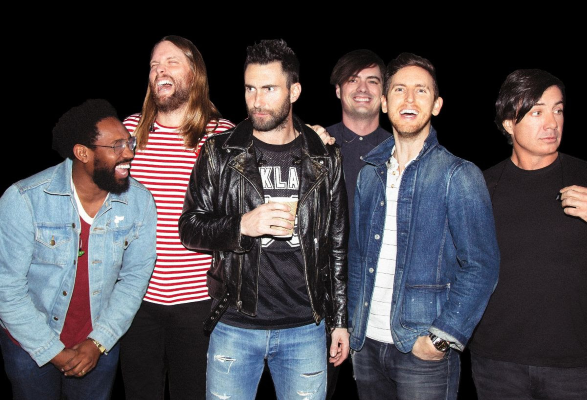 Maroon 5 have unveiled the full tracklisting and line-up of special guests for their brand new album, due out on 11 June 2021.
'Jordi' was executive produced by J Kash and will include singles 'Nobody's Love', 'Memories' and recent hit 'Beautiful Mistakes' ft. Meghan Thee Stallion.
Further collaborative artists to contribute to the upcoming full-length include the likes of blackbear, Rock & Roll Hall of Famer Stevie Nicks, Academy Award winner H.E.R., the late Juice WRLD and rising Zimbabwean artist Bantu. The album will also include a remix of 'Memories' featuring the late legend Nipsey Hussle and superstar rapper YG.
Shaping up to be the three-time Grammy Award-winning multi-platinum band's most personal offering to date, the title gives a nod to the group's original manager Jordan Feldstein.
Frontman Adam Levine posted on Instagram saying, "I miss him every single day. And I'm proud to have etched his name into the history of this band that he helped build from the ground up…every step of the way. We love you Jordi."
Following the release of their debut album 'Songs About Jane' back in 2002, the LA band have achieved over 75 million in album sales, 400 million singles worldwide as well as earned gold and platinum certifications in more than 35 countries.
Their 2017 record 'Red Pill Blues' boasted global hit single 'Girls Like You', which accumulated over 1.2 Billion Spotify streams and almost three Billion YouTube/ VEVO views. Additionally, it was the most-watched video on VEVO in 2018.
Maroon 5 'Jordi' Deluxe Album Tracklisting:
"Beautiful Mistakes" feat. Megan thee Stallion
"Lost"
"Echo" feat. blackbear
"Lovesick"
"Remedy" feat. Stevie Nicks
"Seasons"
"One Light" feat. Bantu
"Convince Me Otherwise" feat. H.E.R.
"Nobody's Love"
Can't Leave You Alone" feat. Juice WRLD
"Memories"
"Memories (Remix)" feat. Nipsey Hussle & YG
"Button" [feat. Anuel AA, Tainy]*
"Lifestyle" (Jason Derulo feat. Adam Levine)*
Image Credit: Travis Schneider / PRESS