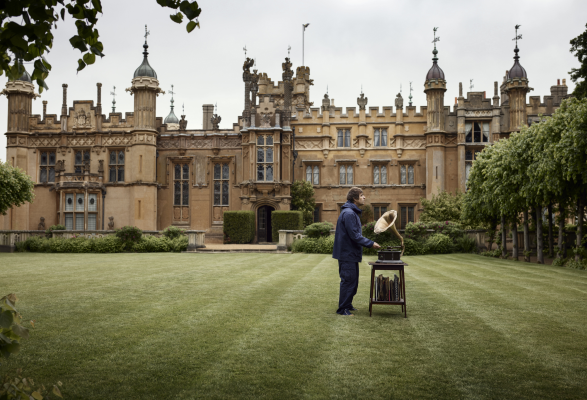 Liam Gallagher will document his triumphant two-night Knebworth Park shows with the release of the live album 'Knebworth 22', due out on 11 August 2023.
Returning to the scene of the era-defining Oasis gigs of the '90s, anticipation for the shows was at fever pitch after all 170,000 tickets for the weekend sold-out almost instantly.
The heady atmosphere of the shows shines throughout the 'Knebworth 22' album, from the roar of approval that greets Liam as he steps up to open the show with 'Hello' right through to the mass singalongs that greet the closing classics 'Wonderwall' and 'Champagne Supernova' (the latter featuring a very special guest in the shape of Stone Roses legend John Squire).
Liam and his band are on fiery form, blazing through the likes of 'Shockwave' and 'Everything's Electric' with a full-throttle intensity, but also providing the accompaniment for the more tender side of Liam's voice to standout on more reflective moments such as 'Once' and 'Slide Away'.
Collectively, 'Knebworth 22' is a must-have live album for any fan who wants to relive the experience.
'Knebworth 22' is released alongside a live video of the weekend's surprises. 'Roll It Over' originally featured on the Oasis album 'Standing On The Shoulder of Giants' and, while the band never played it live, it nonetheless turned out to be a lesser-known fan favourite. This performance elevates the song to its full majesty, a sweeping melancholic epic with Liam's vocal simmering with unadulterated passion.
Liam says, "So we recorded the Knebworth gigs we did last year. We all sound Biblical, turn it up ENJOY, LGx"
WATCH THE LIVE PERFORMANCE OF 'ROLL IT OVER' HERE:
'Knebworth 22' is now available to pre-order or pre-save HERE.
In addition to its digital release, physical formats included standard and deluxe CDs, black double-vinyl and sun yellow double-vinyl. A striking olive and black marbledouble-vinyl edition is also available exclusively from Liam's official store.
Liam Gallagher 'Knebworth 22' Live Album Tracklisting:
'Hello'
'Rock 'n' Roll Star'
'Wall Of Glass'
'Shockwave'
'Everything's Electric'
'Roll It Over'
'Slide Away'
'More Power'
'C'mon You Know'
'The River'
'Once'
'Cigarettes & Alcohol'
'Some Might Say'
'Supersonic'
'Wonderwall'
'Champagne Supernova'
Image Credit: PRESS