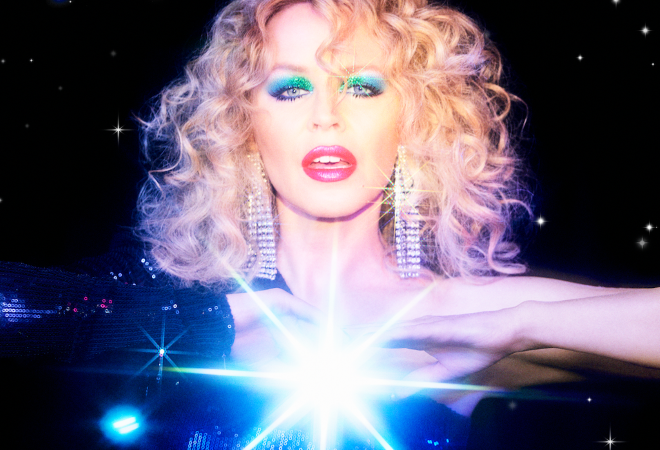 Kylie has shared the second single to come from her brand new album 'DISCO', due out for release on 06 November 2020.
The global pop superstar's latest track 'Magic' is inspired by 70s dancefloor fillers. It follows her comeback single 'Say Something', which was produced by long-time collaborator Biff Stannard. The disco-tinged tune features particularly poignant lyrics for today's world: "We're a million miles apart in a thousand ways…Love is love it never ends, can we all be as one again?"
LISTEN TO BOTH SONGS HERE:
CHECK OUT THE OFFICIAL ARTWORK FOR 'MAGIC' HERE:
Sending L💜VE pic.twitter.com/uS2uLhSYy9

— Kylie Minogue (@kylieminogue) September 24, 2020
'DISCO' will be the follow-up to 2018s 'Golden' LP, which went to No.1 in both the UK and Kylie's native Australia. The album featured hit singles 'Stop Me From Falling' and 'Dancing'.
Her upcoming fiftheenth studio album was co-written by previous collaborators Teemu Brunila, Peter Wallevik, Daniel Davidsen and Michelle Buzz.
The official music video for 'Magic' is set to premiere later today at 7pm BST and is directed by Sophie Muller.
Collectively, Kylie's singles have spent over 300 weeks in the Official UK Singles Chart Top 40 and she has sold over 80 million albums worldwide. The Aussie singer has received multiple awards and accolades throughout her impressive career, including three BRIT Awards, two MTV Music Awards and a Grammy.
Furthermore, her 2019 Glastonbury performance in the 'Sunday Legends' slot on the Pyramid Stage was the most-watched TV moment in the festival's history.
More details regarding 'DISCO' to be revealed very soon.