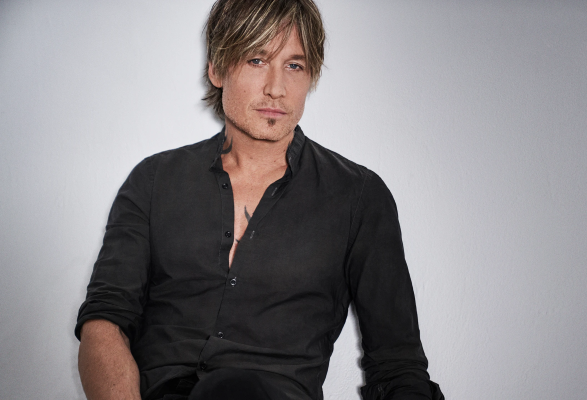 Keith Urban obviously loves his fans, with that there is no doubt, and they love him, and showed it with the response to everything he did, and it was most appreciated by him.
As this being the first gig of the tour, he said after the layoff, he was s******* himself. As to the reaction they would get, to be honest there was never a doubt, as he and his excellent band stormed through some older songs mixed with the newer stuff, from the latest album 'The Speed Of Now', the crowd only got louder. Urban loving it as much as the crowd, interspersed with some nice interaction with the audience, like bringing two girls whose birthday it was up on stage to sing happy birthday to them. Their faces were a picture in itself, and when Urban asked the one where their dad was a man put up his hand, to which Urban asked his name and what he did, to which he replied, "DJ and singer". Urban asking what his go to karaoke was, the reply that you had already played it, Urban, replying how convenient, then invited the dad on stage who dually obliged and when Urban played the song on his acoustic guitar, the dad took the mike out of the holder and took over the stage, and he could sing TBH. Urban with a grin on his very surprised face, the crowd roaring their approval.
Yes, there were the favourites like 'John Cougar John Deer', 'Somewhere In My Car', 'Somebody Like You', 'Wasted Time' and 'The Fighter', and at one point he made his way round the crowd to the back of the stalls and on his own, acoustically covered Adele's 'Easy On Me', and a very good version it was. Informing all here that he thought this was one of the best songs ever, and first time he heard it he had to pull the car he was driving over to listen. After returning to the stage, he kept the momentum up, and still seemed overcome by the crowd's reaction, and turned round and started singing 'The Lion Sleeps Tonight'! We kid you not, only singing the verse, and just as he had turned to continue the gig, for everyone to continue with the 'Whim Away' chorus as loud as they could. Urban turned and looked astonished, and said to the crowd, "When your making toast in the morning and you can't get this song out of your minds, It's a my pleasure"! Surreal, but that was the sort of fun everyone had tonight in the O2.
Review by Jenny Griffe
Please Note: No gig photos due to venue photographer location restrictions.
Image Credit: PRESS