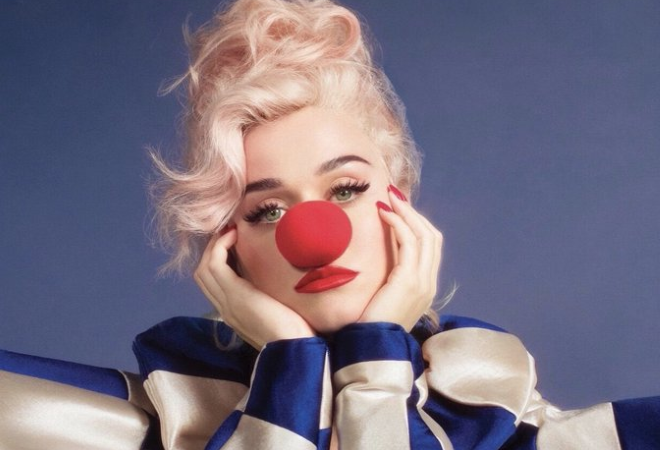 Katy Perry has shared the title track of her forthcoming fifth studio album 'Smile', due out on 14 August 2020.
She commented, "I wrote this song when I was coming through one of the darkest periods of my life…When I listen to it now, it's a great reminder that I made it through. It's three minutes of energizing hopefulness."
LISTEN TO 'SMILE' HERE:
The track is the follow-up to power ballad 'Daisies', which Katy shared in May alongside an official music video shot by director Liza Voloshin while Perry was social distancing.
The song has amassed over 125 million global combined streams since its release. Katy also shared an acoustic version of the track and has performaned it numerous times during lockdown, including on the 'American Idol' season finale, the launch of the 2020 'Good Morning America' Concert Series and the 'Can't Cancel Pride: Helping LGBTQ+ People in Need' livestream.
WATCH THE MUSIC VIDEO HERE:
Katy Perry took to her Facebook livestream to make the exciting announcement that 'KP5' was on the way and confirm that the album will be the follow-up to 2017s Witness, which featured hit singles 'Chained To The Rhythm, 'Bon Appetit', 'Swish Swish', 'Save As Draft' and 'Hey Hey Hey'.
The singer also noted that the upcoming album's songs "could be helpful and empowering and hopeful and joyful."
Rumours quickly emerged speculating as to whether her new track would be a duet with fellow pop superstar Taylor Swift, after Perry teased the single's title and due date on Instagram, captioning her post "THE MUSIC MUST GO ON."
Soon after, Swift posted a photo of herself wearing a sweater with daisies on it.
The pair put their long-standing feud to rest back in 2018 after Perry sent Swift an actual olive branch. The duo then reunited together in co-ordinating burger and fries costumes in the official music video for Taylor's 2019 single 'You Need To Calm Down'.
FIVE FAST ARTIST FACTS:
Katy Perry launched her career as a Christian popstar in 2001.

The singer's real name is Katheryn Elizabeth Hudson (AKA Katy Hudson).

She has written songs for the likes of Selena Gomez, Britney Spears and Kelly Clarkson.

Perry's fans refer to themselves as the "KatyCats" – a nod to her love of cats.

In 2011 Katy became the first woman to achieve five No.1 singles from a single record. (The tracks included 'California Gurls', 'Teenage Dream', 'Firework', 'E.T.' and 'Last Friday Night (T.G.I.F.)', which featured on her 'Teenage Dream' album.)