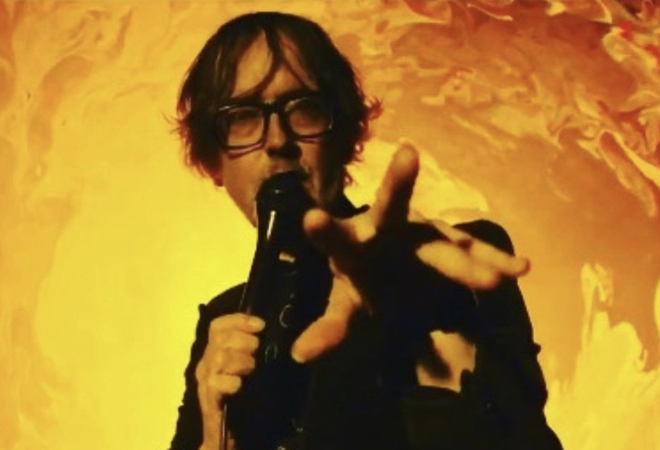 JARV IS… has announced that they will be sending their 'Beyond The Pale… Live From The Centre Of The Earth' film on a UK tour this November/December.
The film, which will also feature additional filmed 'support' as well as a 'finale', represents the only complete live performance of the band's 'Beyond The Pale' album. It will be screened in each location they were due to play on tour this year, in small venues or Everyman Cinemas.
Tickets will also be available to watch the show online for the duration of the tour dates only – tickets for online viewings and film screenings on sale now from here
CHECK OUT THE LIVE FILM TRAILER HERE:
'Beyond The Pale' was the first original music from Jarvis Cocker since 2009's 'Further Complications'. The film was shot at the Peak Cavern in Derbyshire and directed by Iain Forsyth and Jane Pollard, who also worked on Nick Cave's film 20,000 Days on Earth.
The frontman commented, "Beyond the Pale was written (& partially recorded) in front of a live audience, so it feels extra-strange not to be able to take it on the road at the moment…Fortunately, our friends Iain & Jane suggested a way round the problem: set up our equipment in a cave & they would film the results. We have invented a new way of playing a concert."
The band is made up of Jarvis Cocker on vocals, guitar, percussion, Serafina Steer on harp, keyboards, vocals, Emma Smith on violin, guitar vocals, Andrew McKinney on bass, vocals, Jason Buckle on synthesizer & electronic treatments and Adam Betts on drums, percussion, vocals.
JARV IS… 2021 Rescheduled Tour Dates:
Bristol Marble Factory, 31 May
Birmingham O2 Institute, 01 June
Glasgow Barrowlands, 03
London The Roundhouse, 05
Liverpool Invisible Wind Factory, 07
Manchester Albert Hall, 08
Tickets on sale now from Gigantic Ticketmaster Ticketweb See Tickets (Original tickets remain valid)