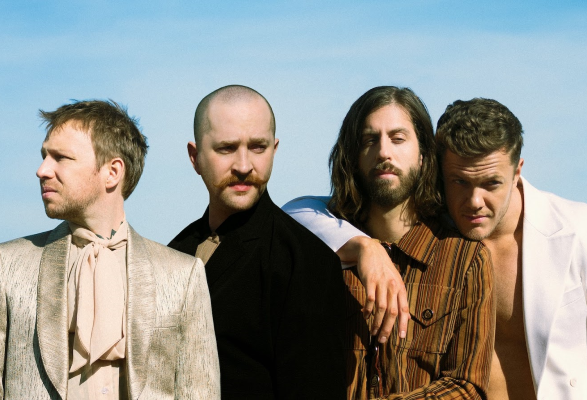 Imagine Dragons recently revealed two brand new tracks 'Follow You' and 'Cutthroat' alongside music and lyric videos.
The songs are the Grammy-winning, multi-Platinum band's first new music since 2018.
The official music video for 'Follow you' stars actors and real-life couple Rob McElhenney & Kaitlin Olson. Directed by Matt Eastin and filmed at Venetian Theatre in Las Vegas, McElhenney and Olson find themselves preparing for a surprise birthday concert.
'Follow You' was produced by Joel Little and penned by vocalist Dan Reynolds after reuniting with and eventually re-marrying his wife after a 7-month separation a few years ago. Ahead of the song's release he posted on social media saying, "I wanted [the song] to represent a love that is realistic. One where love isn't perfect, but it endures."
WATCH THE OFFICIAL MUSIC VIDEO HERE:
The hard-hitting, anthemic 'Cutthroat' was recorded by Imagine Dragons with producer Rick Rubin at his Shangri-La studio in Malibu.
WATCH THE LYRIC VIDEO HERE:
Since they first formed back in 2009, Imagine Dragons have sold 40 million albums and 50 million songs globally as well as clocked-up 60 billion combined streams. They were the best-selling rock band of the 2010s and are the force behind Billboard's Top 3 rock songs of the decade in the form of hit singles 'Believer', 'Thunder' and 'Radioactive'.
After developing a grassroots following with a series of independently released EPs, they made their major label debut with 2012 EP 'Continued Silence'. Their full-length debut followed in 2012 entitled 'Night Visions'. The album entered the Billboard 200 at No.1 with lead track 'Radioactive' topping the Billboard's Hot Rock Songs chart and earning the band a Grammy for Best Rock Performance.
2015's 'Smoke + Mirrors 'debuted at No. 1 on the Billboard 200 and 2017s 'EVOLVE' garnered a Grammy nomination for Best Pop Vocal Album. The record featured three No. 1 Alternative radio hits 'Believer', Grammy-nominated track 'Thunder' and 'Whatever It Takes'.
The band's fourth and most recent album followed in 2018 'ORIGINS' with lead single 'Natural'.
Image Credit: Neil Krug