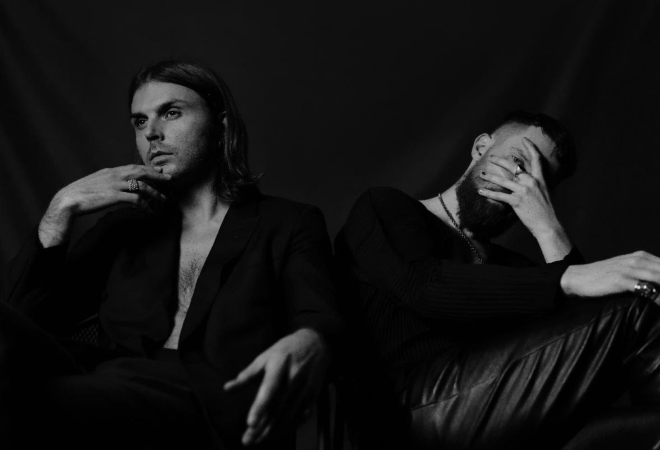 Following the recent release of their highly anticipated fifth album 'Faith', Hurts have revealed an official music video for standout track 'All I Have To Give'.
The deeply personal visual pairs perfectly with the emotive song and stars singer Theo Hutchcraft.
WATCH IT HERE:
The diverse Manchester-born avant-garde pop duo have made their mark globally with their contemporary, innovative sound. Selling millions of records and taking home multiple awards, their latest album is a record of truth, honesty and authenticity and their first new record since 2017s 'Desire'.
Commenting on the new album, multi-instrumentalist Adam Anderson said, "If you'd have told me when we started it, how coherent, powerful, and authentic it is, many months later, I probably wouldn't have believed you…At one stage, I thought we had no chance."
Whilst Anderson has written about his battles with mental illness in the past, during early sessions for the album vocalist The Hutchcraft experienced demons of his own that left him questioning the future of the band.
Discussing the period between the band's last tour back in 2018 he said, "I was physically and mentally absolutely exhausted….To the point where I was at breaking point. I had to stop and not do anything for a while because I couldn't think, I couldn't focus, or anything. And I didn't know what the future held really. I didn't know if we'd make another album again."
During lockdown the band performed their track 'Voices' for the first time via Instagram TV, making use of 360 video technology to give fans a truly immersive experience of the track. They have also utilised the Telegram app to carve a direct channel to their followers, feeding cryptic clues about the future for their followers to connect. Check it out here.
Hurts will be hitting the road with their 'Faith' World Tour next year, which will see them head to 17 countries including the UK with a special homecoming show in Manchester.
London O2 Academy Brixton, 15 April
Manchester O2 Apollo, 16
Tickets on sale now from Ticketmaster See Tickets
Hurts 'Faith' Album Tracklisting:
Voices
Suffer
Fractured
Slave To Your Love
All I Have To Give
Liar
Somebody
Numb
Redemption
White Horses
Darkest Hour