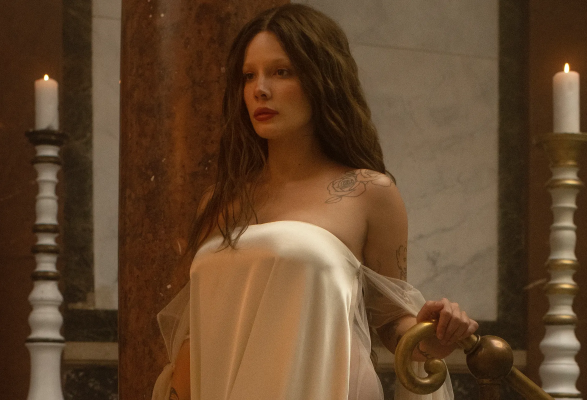 Halsey has unveiled the brand new cover art for her upcoming album 'If I Can't Have Love, I Want Power', due out on 27 August 2021.
The American songstress revealed the artwork at The Met Fifth Avenue in New York City – WATCH THE VIDEO HERE:
Halsey also took to Instagram to share the image posting, "This album is a concept album about the joys and horrors of pregnancy and childbirth. It was very important to me that the cover art conveyed the sentiment of my journey over the past few months. The dichotomy of the Madonna and the Whore. The idea that me as a sexual being and my body as a vessel and gift to my child are two concepts that can co-exist peacefully and powerfully. My body has belonged to the world in many different ways the past few years, and this image is my means of reclaiming my autonomy and establishing my pride and strength as a life force for my human being.
This cover image celebrates pregnant and postpartum bodies as something beautiful, to be admired. We have a long way to go with eradicating the social stigma around bodies & breastfeeding. I hope this can be a step in the right direction!"
The album is produced by Oscar and Grammy Award winners Trent Reznor and Atticus Ross, with all tracks penned by Halsey.
'If I Can't Have Love, I Want Power' will be the official follow-up to 2020 full-length 'Manic', which debuted at No. 1 on Billboard's Top Current Albums chart. Additionally, it was the first album of 2020 to be certified Platinum in the US and went on to attain Platinum certification in numerous other countries too.
To date, Halsey has surpassed 60 million RIAA-certified units across albums, singles and features as well as sold over 150 million adjusted singles worldwide.
She has taken home over 20 prestigious awards including an AMA, MTV VMA, GLAAD Award, the Songwriters Hall of Fame's Hal David Starlight Award and a CMT Music Award.
Photo Credit: Lucas Garrido