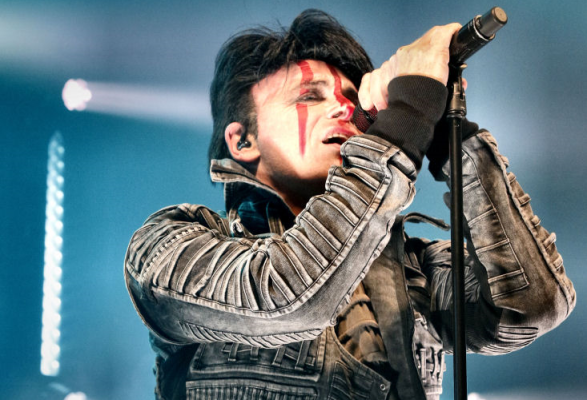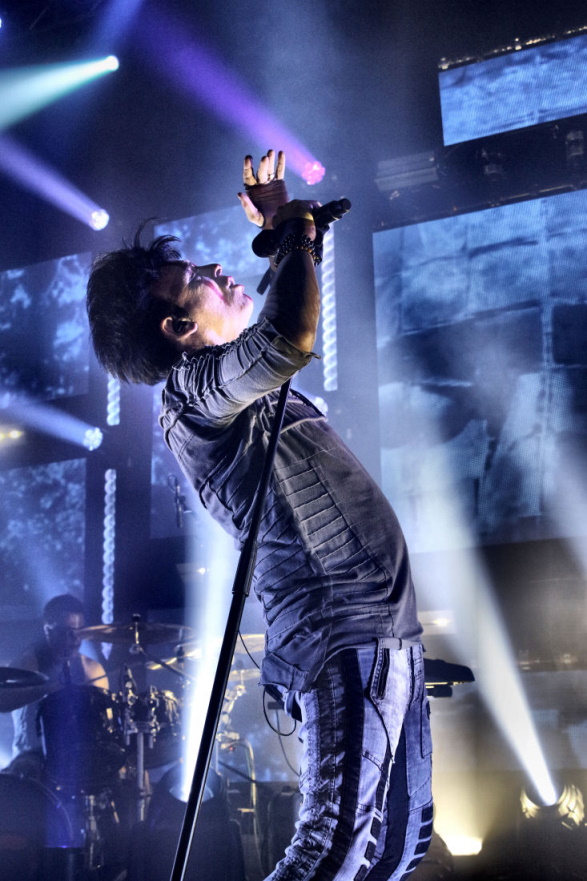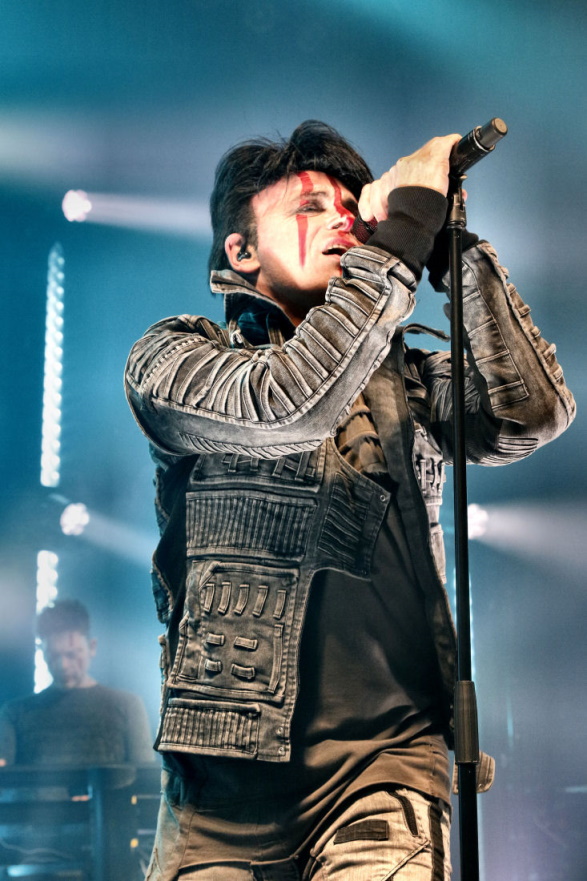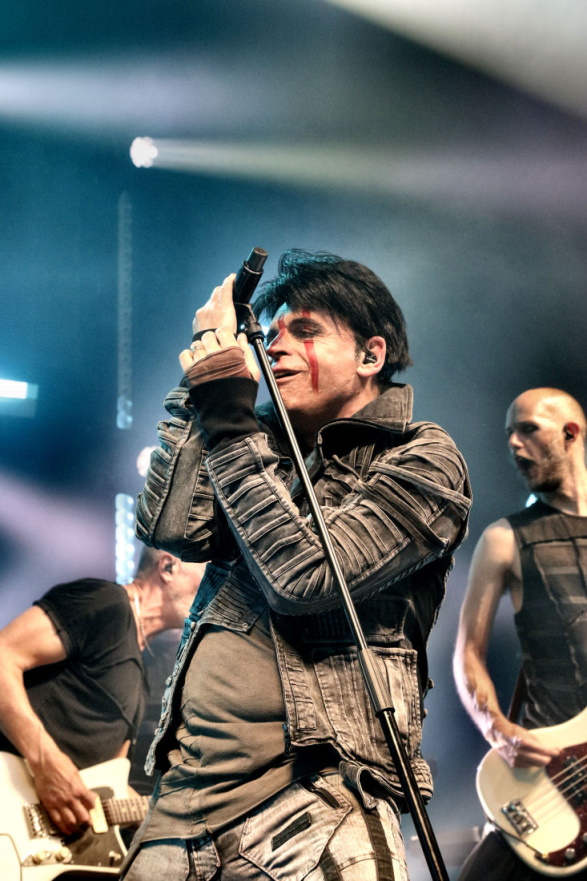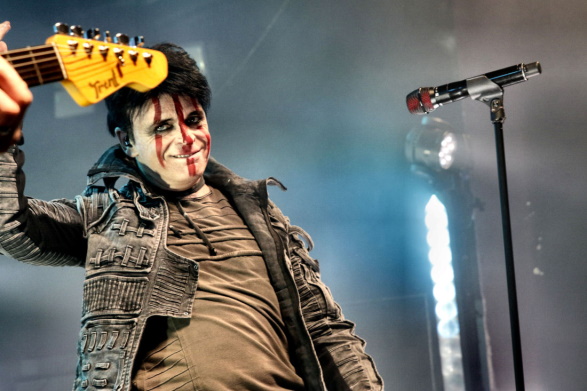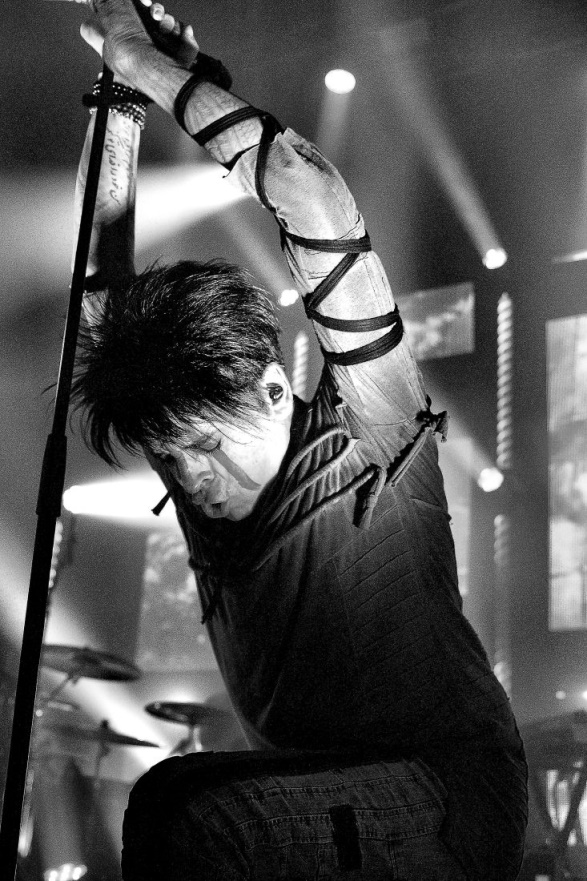 The one thing that we like going to gigs to cover for GetToTheFront is that occasionally you get surprised by an artist or band, and this is one of those times. I have to admit that we were never fans of synth music, and even Mr. Numan, no offence, but over the last few years we have noticed that his music has got a harder edge, at least in the few videos we came across. So we go by the motto that if their still out and about and not on one of the many nostalgia tours, and still producing new music, he must have something special, and my god he has. Touring in support of his latest album 'Intruder', just take a look at the very stylish videos on YouTube, it will give you an idea where he is on this album. When he takes to the stage tonight dressed in a coat that reminded us of Mad Max, complete with red strips of face paint, straight into the title track 'Intruder', with almighty loud searing guitars, it took your breath away and dramatic lighting coming from everywhere, it was like the apocalypse was happening now!
Numan is a great performer and stayed in character apart from a couple of moments when he gave a little finger wave to someone in the sold-out Institute, and the odd smile to his equally menacing, very short haired guitar and bass player. Dressed in long futuristic skirts attire, with red face stripes, especially the guitar player who occasionally came to the front of the stage and glared at the crowd, nearly gave us nightmares!
Apart from four tracks from 'Intruder', he performed 15 other songs from his long career, but all of them had the same thunderous treatment, even 'Cars'. Yes there were synths involved but not in a way that we expected. They complimented the raw crunching guitar, creating a massive sound, it was more akin to Ramstein, no joke, a very industrial sound, and very, very loud. It was as loud as any tock gig I've been to in a while, but the sound was amazingly good. Numan is obviously a very talented man, writer, producer, musician, he can do it all, but what surprised us was the hold he had over the crowd. He has tons of energy, and has the moves, striding around the stage like a caged animal, fascinating. Before finishing on 'Are Friends Electric', which along with 'Cars' will never sound the same again to us. And as I said it's nice to get surprised, but we were gob smacked of just how good this night was.
Photos by Geoff Griffe
Review by Jenny Griffe
Check out our gig pics of Gary Numan in Newcastle HERE.