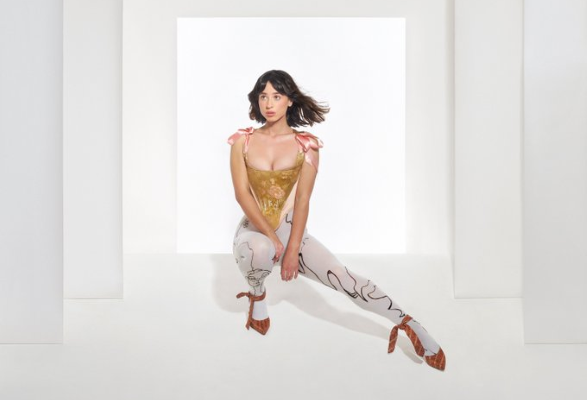 Foxes will drop her highly-anticipated new album 'The Kick' on 11 February 2022.
The record will be English singer-songwriter Louisa Rose Allen's first album in five years and feature recent singles 'Sky Love', 'Dance Magic' and 'Sister Ray'.
'The Kick' was written and recorded remotely via Zoom during the pandemic. In a series of tweets Foxes shared,
"The record was written during lockdown, from a place of wanting to escape the walls of my own apartment, I wrote it imagining freedom and dancing and people being able to hold each other again.
I spent so much time on zoom just writing words and melodies and before I knew it I'd written an album's worth of material. I felt a wild and animalistic feeling of needing and wanting to socialise again.
I felt like being in my apartment and being so isolated made me really dig deep into my mind and my imagination just ran wild.
Most of the music is a celebration but some of the music comes from a painful place, of loss and heartbreak. I felt trapped and almost like my insides were dancing but I couldn't express it, but in writing it allowed me to feel free again.
This record feels like a new start and the ability to come back to life after such a strange time of us all being alone.
I cant wait for you to hear it
Lou x"
After bursting onto the scene at just 19, Foxes went on to release her critically acclaimed debut 'Glorious' in 2014 as well as earned herself worldwide tour support slots with the likes of Pharrell and Coldplay. She has released six UK Top 40 singles to date, with her Zedd collab 'Clarity' taking home the Grammy Award for Best Dance Recording at the 56th Grammy Awards.
In 2020, she returned with 'Love Not Loving You' as well as follow-up singles 'Friends In The Corner', 'Hollywood', 'Woman' and 'Kathleen', which featured on her 'Friends In The Corner' EP.
Foxes has also announced a special run of shows for February 2022 – full details here:
Glasgow SWG3, 11 Feb
Brighton Patterns, 13 Feb
Bristol Exchange, 14
Manchester Night & Day, 15
London Islington Assembly Hall, 17
Birmingham O2 Institute 3, 19
Tickets on sale Friday (26 November) at 9am from Ticketmaster See Tickets
Foxes 'The Kick' Full Album Tracklisting:
Sister Ray
The Kick
Growing on Me
Potential
Dance Magic
Body Suit
Absolute
Two Kinds of Silence
Forgive Yourself
Gentleman
Sky Love
Too Much Colour
Image Credit: PRESS