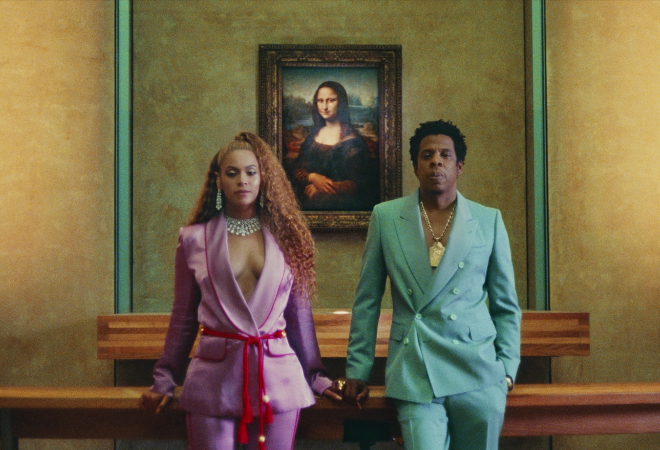 And who could blame them? It's a pretty special number – why you ask? Well, let's start at the beginning…
1. Beyoncé was born on the fourth day of the month – 4 September 1981.
2. Jay Z was also born on the fourth day of the month – 4 December 1969.
3. Nope it doesn't stop there…even Beyoncé's mother Tina Knowles was born on the fourth day of the month – 4 January 1954.
4. The star couple tied the knot on the fourth day of the fourth month – 4 April 2008.
And yes, half of eight is four. Coincidence? We think not!
5. Soon after walking down the aisle, the couple decided to get matching tattoos on their wedding fingers of the roman numeral four; IV.
6. After welcoming their firstborn into the world in 2012, the couple named their daughter Blue Ivy Carter, which, you guessed it! Also comes from the roman numeral of four.
7. Blue just happens to be Jay Z's favourite colour, which also (surprise!) has four letters in it.
8. Following the birth of their daughter, the couple decided to follow a vegan diet for 22 days as part of a physical and spiritual cleanse. Jay Z noted the significance of the timing, being his 44nd birthday as well as the fact that the number of days in the challenge coupled together equalled four.
9. Queen Bey released her fourth solo album called '4' on 24 June 2011.
10. She then released her follow-up self-titled visual album on 13 December 2013.
And… 1 + 3 = 4, get it?
11. Jay z's often controversial trademark hand gesture is the four-sided diamond.
12. Jay Z named his latest album 4:44.
13. His track '4:44' on the new album is significant as he seemingly dedicates it to apologising for cheating on his wife, which she famously accused him of doing in 'Lemonade'.
Check out the lyrics here:
'I apologise, often womanise, took my child to be born, see through a woman's eyes. Took for these natural twins to believe in miracles. Took me too long for this song. I don't deserve you.'
'If my children knew, I don't even know what I would do. If they don't look at me the same I would probably die of all the shame.'
14. And finally, let's not forget that there were four original members in Destiny's Child.
Got any other FOUR-some facts to add? Share them with us on Facebook or Twitter!