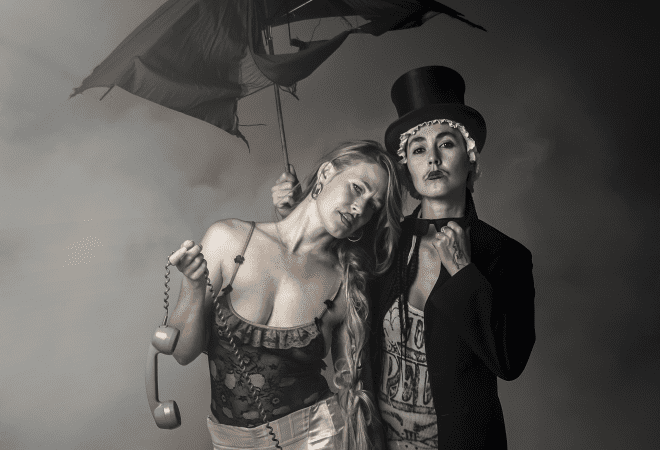 CocoRosie have announced their seventh studio album 'Put The Shine On', due out on 06 March 2020.
The release will be the follow-up to 2015s 'Heartache City' and feature new single 'Smash My Head'. The sister duo Sierra and Bianca Casady commented on the track saying, "For us, our song "Smash My Head" is a running-on-fire cry from the teenage heart, an inner scream we never dared to let out. The song climaxes in an exaltation, an expression of ecstatic death. It journeys from a hard-knock desert childhood scene to a transcendent cosmic passing to another realm."
WATCH THE MUSIC VIDEO HERE:
CocoRosie will head out on tour in support of the new album in March/April next – check out all their 2020 UK live dates here:
London Electric Ballroom, 16 March
Bristol Trinity, 17
Sage Gateshead, 18
Glasgow The Art School, 19
Leeds Brudenell Social Club, 20
Tickets on sale now from Ticketmaster See Tickets
The pairs other previous releases include 2013s 'Tales of A Grass Window', 2010s 'Grey Oceans', '2007s 'The Adventures of Ghosthorse and Stillborn', 2005s 'Noah's Ark' and their first album 'La Maison de Mon Rêve', which dropped in 2004.
In addition to their album tours and festival performances worldwide, both sisters have worked on various other projects, including most recently composing original scores for four full-length theatrical works by Robert Wilson. Furthermore, this year they presented the second series of songs written for a collaboration with the Kronos Quartet at their Jazz Festival in San Francisco, which is leading into a recorded album with songs composed by CocoRosie in the near future.
'Put The Shine On' Full Tracklisting:
High Road
Mercy
Restless
Smash My Head
Where Did All The Soldiers Go
Hell's Gate
Did Me Wrong
Lamb And The Wolf
Slow Down Sun Down
Burning Down The House
Ruby Red Bass
Aloha Friday