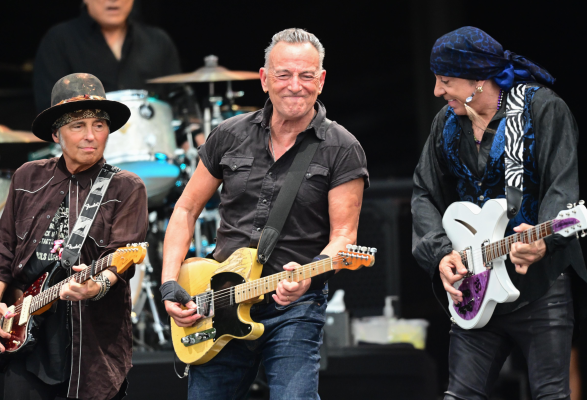 Bruce Springsteen and The E-Street Band Image Credit: Dave Hogan / PRESS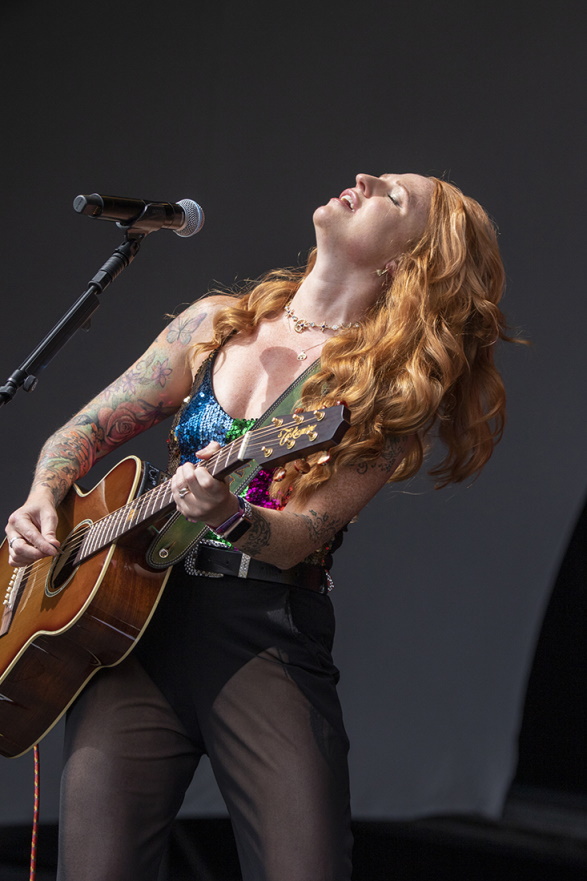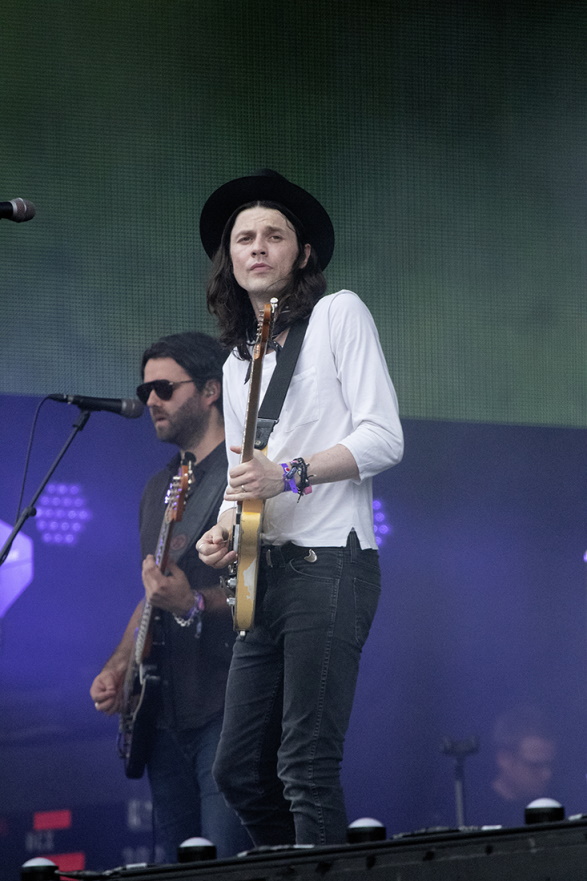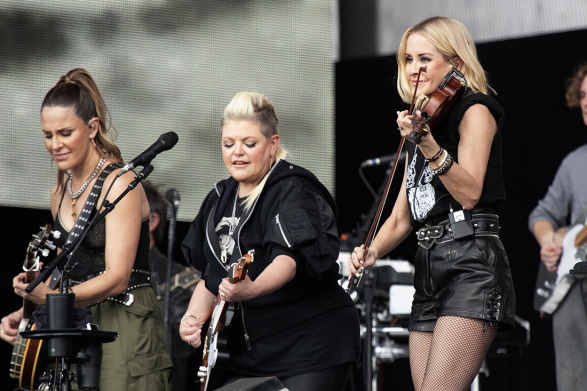 Bruce Springsteen with Kezia Gill, James Bay, The Chicks.
First on the British Airways, Rainbow stage is a lady who I have been virtually obsessed with for a short while. After coming across her purely by luck, Kezia Gill may be a new name to a lot of readers, but just ask "Whispering" Bob Harris, as he is a big big fan, featuring her on his country show on Radio 2 regularly, and has been quoted as saying, "Kezia should be the next big thing" – and he knows a thing or two. She is an artist who straddles country/ folk/country pop and pens some blinding tunes. With a fantastic, varied voice, she is quite a performer. When taking up my position in the pit, I looked around and saw not too many faces, it was a little early to be fair, within half of the first song there was a considerable crowd showing their appreciation to this red headed force of nature, class.
James Bay has been a little quiet of late, but he put on a really good show on the Oak stage, and sounded in excellent voice, which went down well. Obviously, the big hits were there, and playing a couple of new tunes, which was brave on such an important stage, but they were really good songs, and the gamble paid off. He started a little nervy we thought, but soon got into his stride, and by the time he finished his set with obviously, 'Hold Back The River', he was beaming with a big smile on his face. Today's appearance will only have done him a big favour, we look forward to hearing his new material.
Having only covered The Chicks concert in Birmingham last week, (check out the review), we knew they were going to come out all guns blazing and are on fine form. Smashing out 'Sin Wagon' and 'Gaslighter', which is a very catchy tune, only slowing the pace down a couple of times for the classic 'Landslide' and poignant 'Travelin Soldier', accompanied by the crowd, who were lapping up this by now sunlit set. And before we knew it, it was over but not before The Chicks brought out the big guns 'Not Ready To Make Nice' and the crowd favourite 'Goodbye Earl'. Two doses of The Chicks in one week, why not when it's this good.
Now the moment we have all been waiting for. With the atmosphere hard to describe, electric, buzzing, you could almost taste the feeling in the packed crowd, or maybe we should say, congregation, because it was like waiting for the second coming, we kid you not. This review is the most personal ever, the E Street Band walks on stage, followed by THE BOSS, we all went wild. In fact, if he had just stood there it probably would have been enough, but you don't get called the BOSS for nothing. When anyone asks me what was the best gig I've ever been to the answer has always been Bruce in 1985 Born In The U.S.A tour, Leeds. I still get shudders when I think of it, 5 ½ hours of superb rock music, and the atmosphere! And what made it more emotional for us tonight was that my daughter Sarah is with us, born after 1985, she loves music, and when we have chance we go as a family, as she now lives in London, and I have to be honest I had tears in my eyes for a few songs, because she was now witnessing what we saw that day. Having talked about it on numerous occasions when discussing gigs and music with her, we could see that she got it, I put my head on her shoulders and put my arm around her waist, and gave her a squeeze, a beautiful moment.
At one point Bruce comes down to the crowd walking around having selfies taken and giving out a few picks, and even a harmonica! Sitting on the barrier, we were lucky enough to be only about 15 feet away from him, it was incredible. Before returning to the Hyde Park stage to continue the onslaught, apart from two of the twenty-eight song set, all you got at the end of a song was Bruce shouting out "1234", and on of they went again, unbelievable, especially when you realise he is nearly 74 years old! When you watch his reaction to The E Street Band, it is very clear that apart from playing with him for nearly 50 years, on and off, that these are very close friends. You can see from the look in their eyes, which you saw on the large video screens. When we were lucky enough to see P!NK the week before, it was an amazing show, with all the glitz, acrobatics, video images, and her performance on the massive screens, but with Bruce, no special effects or colourful images behind them, all you get is THEM, but that is more than enough. And it's not just the big stadium rocking tunes like 'No Surrender', 'The Promised Land', 'Darlington County', 'Badlands', 'Glory Days' and 'Born To Run', but when he sings songs like 'Last Man Standing', about his distant past and start in music it was incredibly moving. But soon we were singing and rocking again, with the likes of 'Wrecking Ball' and a fantastic version, complete with one of the loudest crowds singing of 'Because The Night', we have ever heard. We are not going through the complete setlist, safe to say they all were met with the utmost approval from all the congregation. Then after a blitzing cover of 'Twist and Shout', it was all over 3 hours of what was as close to a spiritual experience I have ever come.
But wait, no he's not finished. He rambles to the front of the Mighty Oak stage, with acoustic guitar in hand, and finishes off the adoring crowd's night with 'I'll See You In My Dreams'. A fitting end to an emotional, outstanding night, even with the passage of 35 years since Leeds. Due to our position in the arena, having family here, and realising that even THE BOSS can't possibly go on doing this forever, playing every song like his life depends on it, live anyway, and we might not ever see him again, does it match up to our best gig ever? Oh yes! The man is a machine, a legend. And the kind of artist that has the ability to touch you deep inside or rock your head off like he can only comes round once in every lifetime – long live THE BOSS.
Kezia Gill, James Bay & The Chicks Photos by Geoff Griffe
Review by Jenny & Geoff Griffe
P.S We would like to thank, Caitlin and her team at Outside Org, for helping us make some great memories.