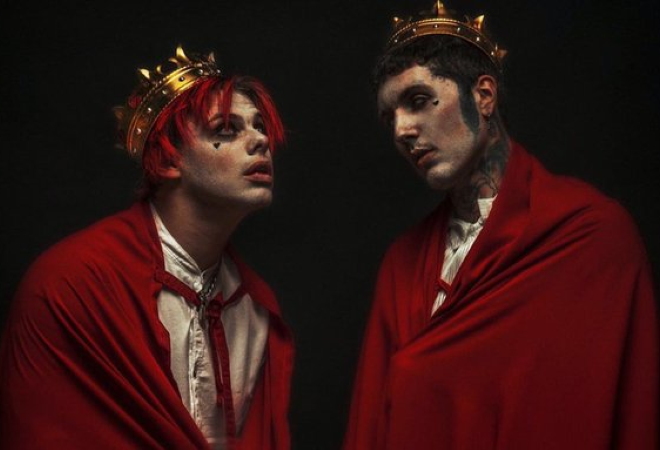 Bring Me The Horizon have teamed up with fellow Brit YUNGBLUD for latest single 'Obey'.
'Obey' was penned by the twice Grammy nominated band who then reached out to YUNGBLUD in LA to add his vocals to the track. The single is the third to come from the first EP from Bring Me The Horizon's 'Posthuman' series.
Frontman Oliver Sykes commented, "We consider ourselves free but only because the chains are invisible, and we are controlled in ways we don't even want to think about. They tell us how to live with a smile on their face, like shit aint fucked up, inform us of tragic statistics like its nothing… it's a weird world."
YUNGBLUD added, "We are being told to conform to a completely outdated idea that we don't relate to or even understand. They teach us to turn against each other and to fight against our differences rather than embrace and celebrate them. They try to keep us divided because it makes us weaker. Robots follow robots, because they feel nothing at all. But what they don't realize is that to us, to be different is to be free and a world of fucking love and equality is a world we want to be part of. We will rise above the hate and the diversion. We will fight for the world we want to be a part of. We will not obey."
The official music video was shot in London and was directed by Oliver Sykes.
WATCH IT HERE:
'Obey' follows the band's first post isolation release 'Parasite Eve', which has accumulated over 35 million streams to date. Bring Me The Horizon used lockdown as a time to create and write what is set to be some of their most boundary crossing, powerful music to date.
The Sheffield rockers have made their impact on mainstream music worldwide over the past few years. In 2019 alone they garnered their second Grammy nomination as well as took home a BRIT Award and scored their first ever UK No.1 album with 'amo'.
2015's 'That's The Spirit' was also hugely successful and has been streamed over a billion times to reach platinum status.