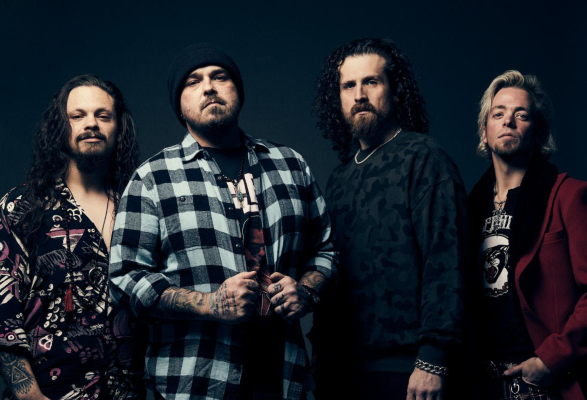 Black Stone Cherry have dropped another taster of their much anticipated eighth studio album 'Screamin' At The Sky'.
The full-length is due out on 29 September 2023 via Mascot Records.
Frontman/guitarist Chris Robertson explained the new album's opening song saying, "Much like most BSC songs, the music was written first and it set the tempo. We envisioned standing around a bonfire and just letting go of everything, throwing your problems into the cosmos and letting them be what they are. It starts the album off exactly how we wanted, right off the bat, in your face."
The title track is accompanied by a lyric video – WATCH HERE:
'Screamin' At The Sky' will be available on white solid vinyl, a limited edition deluxe vinyl boxset), CD and digital formats and is available to pre-order here.
Black Stone Cherry will return to the UK to celebrate their new release with a series of special album signing events scheduled across eight special in-store appearances, followed by an 'already sold-out' intimate UK & Ireland tour this autumn.
The American rockers are also heading to Steelhouse Festival later this month – remaining tickets on sale now from Gigantic
The Kentucky-based band features Chris Robertson (lead vox/guitar), Ben Wells (guitar/bkg vox), drummer John-Fred Young (drums/bkg vox) and 'new' bassist, Steve Jewell Jr. (ex-Otis).
Black Stone Cherry 'Screamin' At The Sky' Full Album Tracklisting:
Out Of Pocket
Screamin' At The Sky
Nervous
When The Pain Comes
Show Me What It Feels Like
R.O.A.R
Smile, World
The Mess You Made
Who Are You Today?
Not Afraid
Here's To The Hopeless
You Can Have It All
Photo Credit: Jimmy Fontaine / PRESS