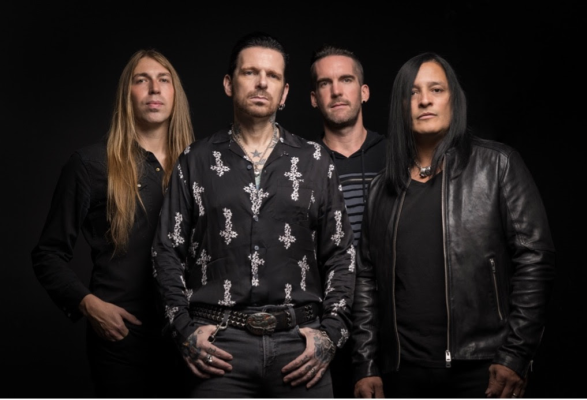 Black Star Riders have shared brand new single 'Catch Yourself On', taken from their forthcoming album 'Wrong Side Of Paradise', due out 20 January 2023.
Frontman Ricky Warwick commented, "'Catch Yourself On' is a phrase often used in my home country of Northern Ireland, it's used to tell someone to 'stop being ridiculous' or 'to get real'. We're sadly becoming slaves to technology and social media (guilty as charged). We don't think twice about sharing our inner most feelings and thoughts with a world of strangers… We seem to be losing the ability to think for ourselves. Technology is controlling us, instead we should be controlling technology. It feels like it's already surpassing human interaction."
LISTEN HERE:
Additionally, Warwick will participate in a series of in-store dates throughout the UK, playing a selection of the new tracks in an intimate acoustic setting.
In-store Live Dates:
Assai Records Edinburgh, 20 Jan @ 1pm
Glasgow LOVEMUSIC, 20 Jan @ 7pm
HMV Sunderland, 21 Jan @ 2pm
Reflex Records Newcastle, 21 Jan @ 6pm
Crash Records Leeds, 22 Jan @ 2pm
The Parish Huddersfield, 22 Jan @ 7pm
HMV Manchester, 23 Jan @ 6pm
Liverpool Phase One, 24 Jan @ 7pm
HMV Birmingham The Vault, 25 Jan @ 6pm
Banquet Records, 26 Jan @ 7pm
Norwich, Soundclash, 27 Jan @ 6pm
HMV Crawley, 28 Jan @ 1pm
Brighton, Resident, 28 Jan @ – 6.30pm
HMV Reading, 29 Jan @ 1pm
Oxford, Truck, 29 Jan @ 6pm
Southsea, Pie & Vinyl, 30 Jan @ 1pm
HMV Southampton, 30 Jan @ 5pm
Rough Trade East, 31 Jan @- 7pm
Cambridge Relevant Record Cafe, 01 Feb @ 5pm
HMV Leicester, 02 Feb @ 5pm
Tickets on sale now from here
The 11-track 'Wrong Side Of Paradise' was recorded in the autumn 2021 at Studio 606 in Northridge California and Toochtoon Sound in Redmond Oregon with producer and long-time BSR associate Jay Ruston.
The album is currently available to pre-order worldwide in various formats including limited coloured vinyl (including green, blue, red and black/white split), black vinyl, signed CD, cassette and digital download. There is also a special edition containing two bonus tracks can be found on CD (with a 24-page song booklet) and USB stick formats, as well as collector bundles available, including one with an exclusive 12".
The hard rockers will be hitting the road in February with a special run of 10th anniversary live dates, with special guests Michael Monroe and Phil Campbell & The Bastard Sons joining them on all shows except Belfast where Trucker Diablo will open.
Black Star Riders 2023 UK Tour Dates:
Belfast Limelight, 11 Feb
Nottingham Rock City, 13
Norwich UEA, 15
Ipswich Corn Exchange, 16
Manchester O2 Ritz, 17
Wolverhampton KKs Steel Mill, 18
Leeds O2 Academy, 19
Cardiff Tramshed, 21
Bristol O2 Academy, 22
Glasgow SWG3, 23
Newcastle O2 City Hall, 24
London O2 Shepherds Bush Empire, 26
Remaining tickets on sale now from Gigantic Ticketmaster Ticketweb See Tickets
The band features Ricky Warwick on lead vocals/guitar, Sam Wood on guitar, Robert Crane on bass guitar and Zak St. John and drums.
Black Star Riders 'Wrong Side Of Paradise' Full Album Tracklisting:
Wrong Side Of Paradise
Hustle
Better Than Saturday Night
Riding Out The Storm
Pay Dirt
Catch Yourself On
Crazy Horses
Burning Rome
Don't Let The World (Get In The Way)
Green And Troubled Land
This Life Will Be The Death Of Me
Cut 'n' Run (Bonus Editions Only)
Suspicious Times (Bonus Editions Only)
Photo Credit: Robert John / PRESS