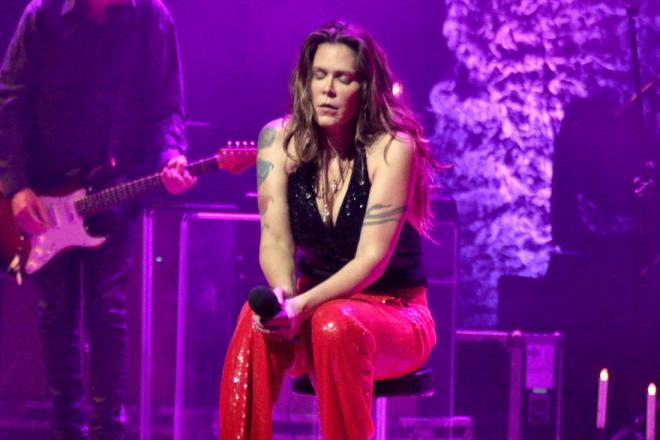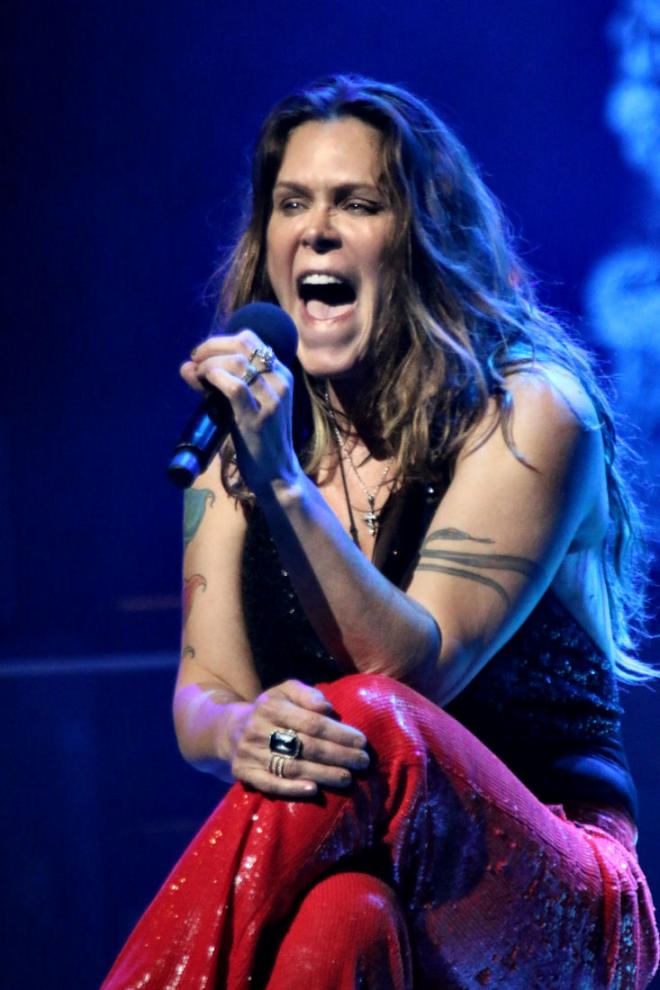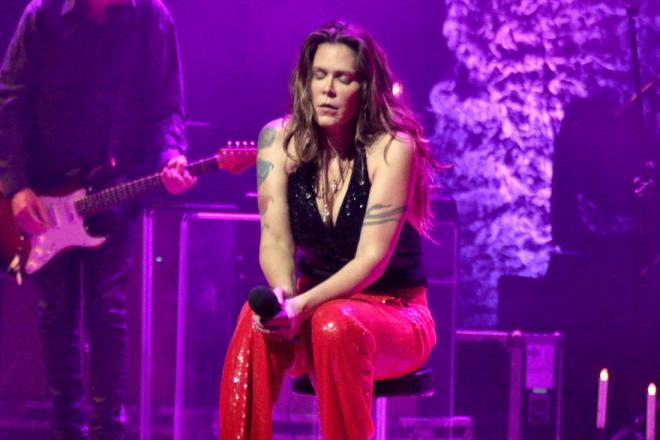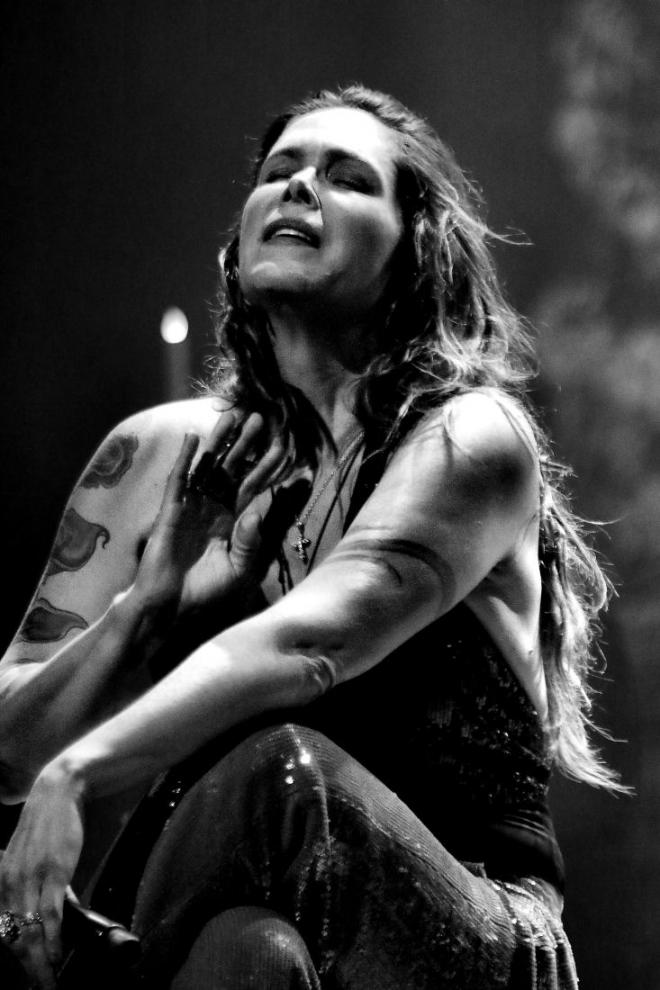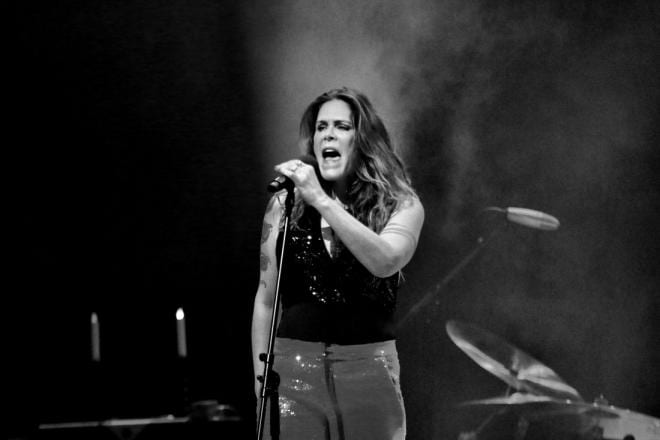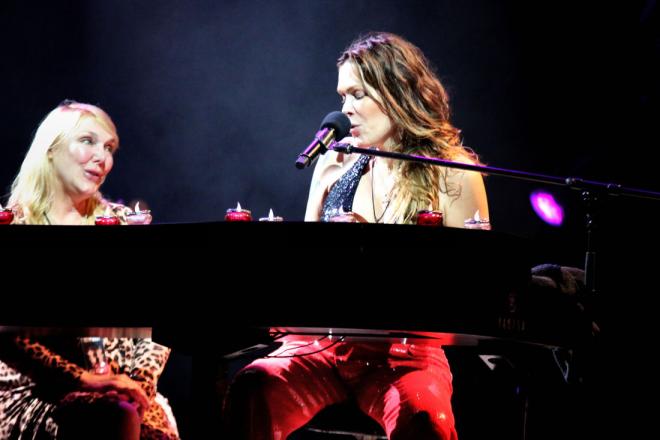 Kris Barras opened tonight's concert with an acoustic set, as he has in the past a few times, and again won over the audience with a stripped down collection of his own tunes plus an excellent cover of the classic 'Midnight Rider'. He really went down well and having seen Kris Barras a few times with his full band, as Kris himself informed the audience, when he plays with the band it's a lot louder and raucous. We can attest to that, but what a great night you have, so we hope that some attending tonight go and see him next time he tours.
In some reviews of the mighty Beth Hart gigs it has been likened to a religious experience, and as a long-time fan of hers we can understand this. She is unbelievable and unlike many of today's stars, very real and very humble with an extraordinary talent not only vocally but being able to reach out to her fans even in big grand venues like this. With another cracking album 'War In My Mind' under her belt, she hits the stage and as always takes no prisoners. In the blink of an eye she's off the stage and doing a lap of the theatre, shaking hands and greeting the fans, and a big surprise as she introduces not only her sister but her niece who are visiting giving them a big hug before returning to the stage. It really doesn't matter what Beth sings, you just listen and clap, but tonight unusually she was being drowned out by a bad mix. When someone in the audience pointed out the fact to Beth, she said she loved that the audience felt that so at ease that they could point out the sound problem, and yes it did improve, but as the set contained several stripped back versions with the band taking up positions at the front of the stage including 'I Need A Hero', written for her husband and tour manager Scott but with Beth belting it out, it wouldn't have mattered anyway.
There was a very emotional moment when Beth sang 'Sister Heroine', written about her deceased sister to her niece on the piano. As they were sat just six seats from us on the same row, you could see them singing along with huge smiles, and if you thought it couldn't get any more personal, while sat at the piano announcing that she was going to sing 'Sister Dear' from 'War In My Mind', she hadn't gotten through the first couple of lines when Beth broke down in tears, wiping her eyes with a towel, she asked her sister to join her on stage, which apparently she has never done before, but tonight she obliged. Beth pulled up a stool next to the piano and sang the song to her. It was extremely emotional, I saw many in tears, this is what makes a Beth Hart gig like an religious experience.
As usual the attendees didn't want this to end, but end it must, although not before playing an extremely stripped version of the classic 'I'd Rather Go Blind', which anyone who has witnessed Beth before could attest that you won't find anyone who can perform this classic as good as her, and even in this bare bones version the power and feeling she gets across is unworldly. Beth never gives less than 100% and is incapable of giving a sub-standard performance, it's just not in her nature. We beg anyone who has not yet got into her music, do yourself a favour, right that wrong.
Photos by Geoff Griffe
Review by Jennifer Griffe