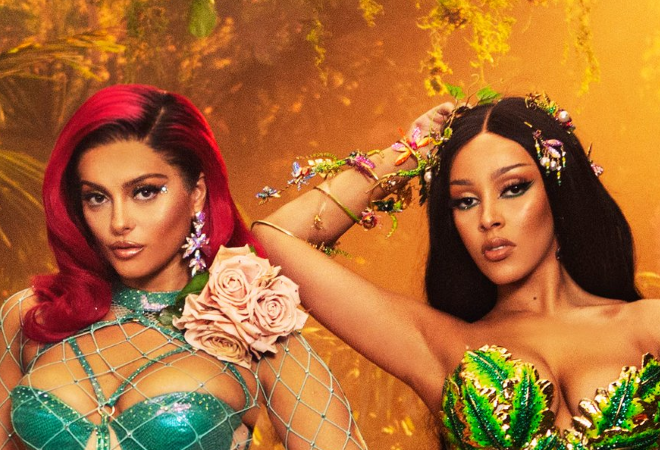 Bebe Rexha has teamed up with Doja Cat for brand new single 'Baby, I'm Jealous'.
The pair also star in the Hannah Lux Davis directed music video, which features actors and influences Charli D'Amelio, Nikita Dragun and Avani Gregg.
Discussing the track Rexha commented, "'Baby, I'm Jealous' is a song I wrote about embracing my insecurities…It's about the way social media has heightened my jealousy which can affect how I feel about myself. We are constantly flooded with the highlights of other people's lives, and at times I find myself comparing my worth and beauty to others. It's part of the human process to experience jealousy—ultimately, this is an anthem to embrace those feelings as a form of empowerment."
WATCH IT HERE:
'Baby, I'm Jealous' is Bebe Rexha's first release of the year. It follows the news that her No.1 hit collab with Florida Georgia Line 'Meant To Be' has now reached Diamond certification status (10x Platinum). As well as sitting comfortably at the top of the Billboard Hot Country Songs Chart for a record-setting 50 straight weeks – the longest reign ever by a female lead artist – the track won Top Country Song at the 2019 Billboard Music Awards and Best Collaboration at the 2018 iHeart Radio Music Awards. In addition, it was nominated for Best Country Duo/Group Performance at the 61st annual Grammy Awards in February 2019, where Bebe was also nominated for Best New Artist.
The US songstress dropped her debut album 'Expectations' back in 2018. The record boasted 'Meant To Be' alongside fellow Platinum single 'I'm A Miss'.
Last year she unveiled a string tracks, including 'Last Hurrah', 'Not 20 Anymore' and 'Call You Mine' with The Chainsmokers'.
To date, Bebe's music has clocked-up over 12 million overall single sales and more than six 6 billion total global streams.
After newly signing with SAL&CO management, Bebe Rexha is set to release a new album in early 2021.