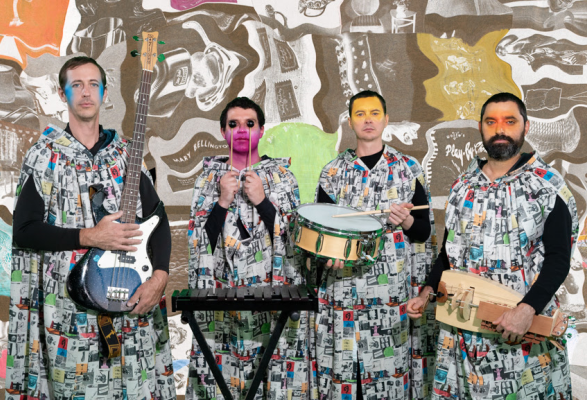 Animal Collective have revealed brand new single 'Strung With Everything', taken from their 11th studio album 'Time Skiffs', due out on 04 February 2022.
The track is accompanied by an Abby Portner-directed animated music video and will feature on the quartet's upcoming record alongside previously released songs 'Prester John' and 'Walker'.
Portner commented, "Recently for Animal Collective's live shows I have been designing and animating all of the video content out of cut paper…I have been editing together symbols and coloured static silhouettes that match the music's feeling and rhythm. The videos are like pictographs that tell a story organically and simply. For the 'Strung with Everything' video we wanted to continue with this process to match the style of the band's live shows in a music video."
CHECK OUT THE MUSIC VIDEO HERE:
'Time Skiffs' will be the Animal Collective's first studio album in more than half a decade. Since releasing their last full-length 'Painting With' in 2016, they have also unveiled three EPs including 'The Painters' and 'Meeting Of The Waters' in 2017 and 'Bridge To Quiet' in 2020.
Furthermore, they have confirmed a run of UK and European shows for later this year following their spring US tour and appearance at Madrid's Mad Cool Festival this summer.
The the experimental psychedelic band comprises of Avey Tare (David Portner), Panda Bear (Noah Lennox), Deakin (Josh Dibb) and Geologist (Brian Weitz).
Animal Collective 2022 UK & Ireland Tour Dates:
Limerick Dolans, 02 Nov
Dublin National Concert Hall, 03
Bristol SWX, 06
Manchester Albert Hall, 07
Glasgow Saint Luke's, 09
Tickets on sale Friday (21 January) at 10am from Gigantic Ticketmaster Ticketweb See Tickets
Photo Credit: Hisham Bharoocha / PRESS