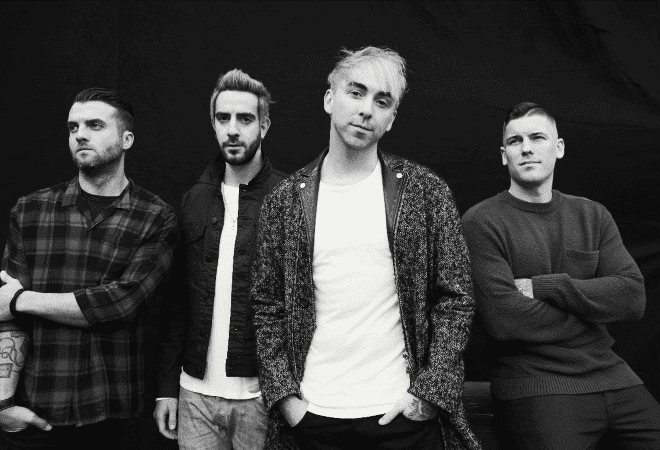 All Time Low have today digitally released their brand new album 'Wake Up, Sunshine' as well as shared the lyric video for 'Monsters' featuring blackbear.
The physical album is due out on 22 May, as a result of shipping delays due to the ongoing Coronavirus pandemic.
The band had already shared a selection tracks from the album, including 'Getaway Green', 'Melancholy Kaleidoscope', 'Trouble Is' and 'Wake Up, Sunshine'.
The official music video for 'Getaway Green' was recorded live at their recent intimate shows in Boston, New York, Baltimore, Leeds and London this January.
WATCH IT HERE:
The group went back to the basics to create their new album, congregating together in Nashville at Rian's studio and at a Palm Springs rental house to write and record the 15-song offering alongside co-writer, producer and collaborator Zakk Cervini.
All Time Low singer and guitarist Alex Gaskarth commented, "We got back to how we started. It had been a long time since the four of us made a record under one roof. That became a central theme. We've been a band for 17 years. Everybody brought something to the table. A lot of what you're hearing came from those magic moments together."
Fellow band member Jack Barakat continued, "I think we accomplished something special. By putting our four heads together, we were able to make a classic All Time Low album."
Since the release of their third album 'Dirty Work' in 2011, the group have achieved four straight Top 20 entries on the UK Official Album Chart, with 2015's 'Future Hearts' debuting in the top spot. Furthermore, 2009's 'Nothing Personal', 2012's 'Don't Panic' and 'Future Hearts' are also all UK Certified albums – gold, silver and silver respectively.
'Wake Up, Sunshine' Full Tracklisting:
Some Kind of Disaster
Sleeping In
Getaway Green
Melancholy Kaleidoscope
Trouble Is
Wake Up, Sunshine
Monsters feat. blackbear
Pretty Venom (Interlude)
Favorite Place feat. The Band CAMINO
Safe
January Gloom (Seasons pt. 1)
Clumsy
Glitter & Crimson
Summer Daze (Seasons pt. 2)
Basement Noise